Messaging has changed the way that we communicate. Relationships big and small – from the personal to the political to the commercial – can be mapped out across conversations in the messaging apps that almost everybody uses every day. In our annual conversational business report, The state of messaging 2020, we look at the biggest messaging stories from the past year, along with research, reporting and predictions about how the future of messaging between brands and customers will play out. The report features insights from more than two dozen customer-experience, sales, marketing and product leaders at some of the world's most conversational companies, including Google, Twitter and Hootsuite. Here are some highlights.
The year of WhatsApp
Every region has its favourite chat app, but one in particular rose to prominence across the world over the past year. In North America and Australia, Facebook Messenger is the dominant messaging app (if you don't count iMessage, which is built into every Apple device). In China, it's WeChat. But almost everywhere else, it's WhatsApp.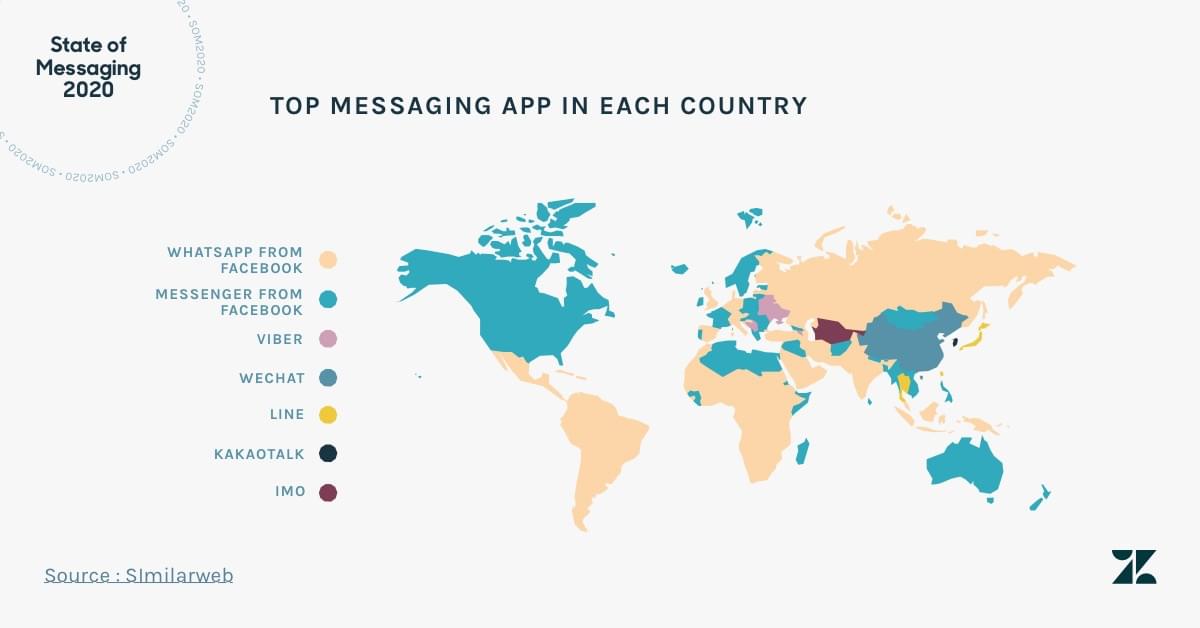 With 1.6 billion active users and a Business API that's seeing wider adoption every month, it should come as no surprise that WhatsApp shows up again and again in this year's report. Since 2016, WhatsApp has doubled its user volume from 200 million to 400 million – in India alone. The state of messaging 2020 discusses what this means for businesses in India and how they can use unique regional features to enable conversational commerce. As a bonus, the report features a built-in chatbot that gives a little extra insight into the stories behind WhatsApp's global dominance and how it proliferated across the world.
The year of unification
Major messaging platforms came together this past year – with each other, with legacy brands and with innovative start-ups. The state of messaging 2020 explores how this will shape the future of conversational business. When Facebook confirmed that it intended to unify the back-ends of its three leading chat apps – Messenger, WhatsApp and Instagram – what followed was a flurry of new feature announcements and even a controversial rebranding. Yahoo! Japan acquired LINE, the most popular messaging app in Japan and Taiwan, with Yahoo!'s parent company remarking that, 'Japanese Internet companies are lagging far behind their American and Chinese counterparts' – a nod to Facebook's private-messaging pivot – and Tencent's WeChat, the Chinese do-everything messaging app on the front lines of conversational business.
The coming together of Zendesk and Smooch, now Sunshine Conversations, was a step in the same direction, with the addition of WhatsApp in Support and other new messaging channels, such as WeChat, LINE and Twitter DMs, following soon afterwards. Business messaging is about meeting customers where they are, and the report highlights the different ways that messaging is inserting itself at every step of the customer journey – from marketing to sales to support – including within business's own mobile apps and websites.
The year of chatbot realism
No report on messaging and conversational business would be complete without a hard look at chatbots – and what we have to share is surprising. Looking back at headlines over the years, we found that coverage of chatbots peaked in 2016. Since then, chatbots have only become smarter, more human and more purposeful.
Chatbots, conversational AI and voice assistants have become part of the digital fabric across various business functions and industries. Nearly half of finance and insurance businesses have embraced bots for everything from lead generation to customer support, but how many companies plan to add chatbots or automation over the next year?
That's what we call 2020 vision. There are more stats, infographics and expert insights in the report.
Have a look at The state of messaging 2020.