Collaborate across your ecosystem with Side Conversations
Collaborate across your ecosystem with Side Conversations
Last updated March 16, 2022
Getting the right information to or from the right people in a large organisation is easier said than done. True collaboration, the workflow gold standard for scaling companies, can sometimes seem like a pipe dream.
To fill the gaps, many of us are inclined to include people via forwarding emails or cc'ing people on them—at times, over-including people to a fault. But as everyone who's made a forwarding or cc faux-pas can attest, this doesn't always (or even often) streamline the process. Today's nuanced business communications involve different teams and stakeholders, and they require equally nuanced tools that build internal collaboration into the equation from the start.
Enter Side Conversations, part of the Collaboration add-on for Zendesk Support designed to save time and streamline internal operations. That means reducing the number of back-and-forths agents need to have as they solve issues, and consolidating communications between collaborating teams. According to a TechValidate survey conducted by Zendesk, 80% of our beta customers say that Side Conversations helped streamline communication between teams, ensuring agents get the right answers and resolve tickets faster.
All of the new collaboration tools for Support were designed with enterprise-level, nuanced use cases in mind. Take, for example, global marketplaces, who have large rosters of customers, each of whom has a roster of customers of their own. Or, consider large organisations whose stakeholders on customer-facing issues and projects vary from function to function. In these instances, the overall customer experience depends on multiple teams, not just those on customer support. We've heard for a long time that customers have difficulty collaborating with teams within their businesses that are not on the immediate support team; this can be a huge competitive detriment, because even those who aren't in customer-facing roles have an impact on the customer experience. In order to be proactive, engaging, and transparent, customer service can no longer be a siloed function from the rest of the company.
Unfortunately, customers with issues often end up being bounced around to multiple departments, resulting in a disjointed experience. Agents have to ask different teams for expertise, and trying to find the right person for the right answers slows down ticket resolution time. Furthermore, details often get lost when tickets are passed back and forth. The result of distinct, contextual side conversations is a better experience for your customers, more efficient internal paths to resolutions, and heightened accountability between teams.
Here's how Side Conversations works. Agents can collaborate with people on any team, inside or outside your company, in multiple side conversations all contained within the Support interface. Instead of a recipient in sales or marketing attempting to digest a multi-message email thread, that person is clued in only to the relevant parts of the issue. Once agents have gathered the right information and context from the right people, they can then reply back to customers with only the most relevant details and information.
It's a plus for agents, as well. The entire ticket history, including all the side conversations, are contained within one ticket—which can only help the entire team and promote accountability across the enterprise. Here's how it works: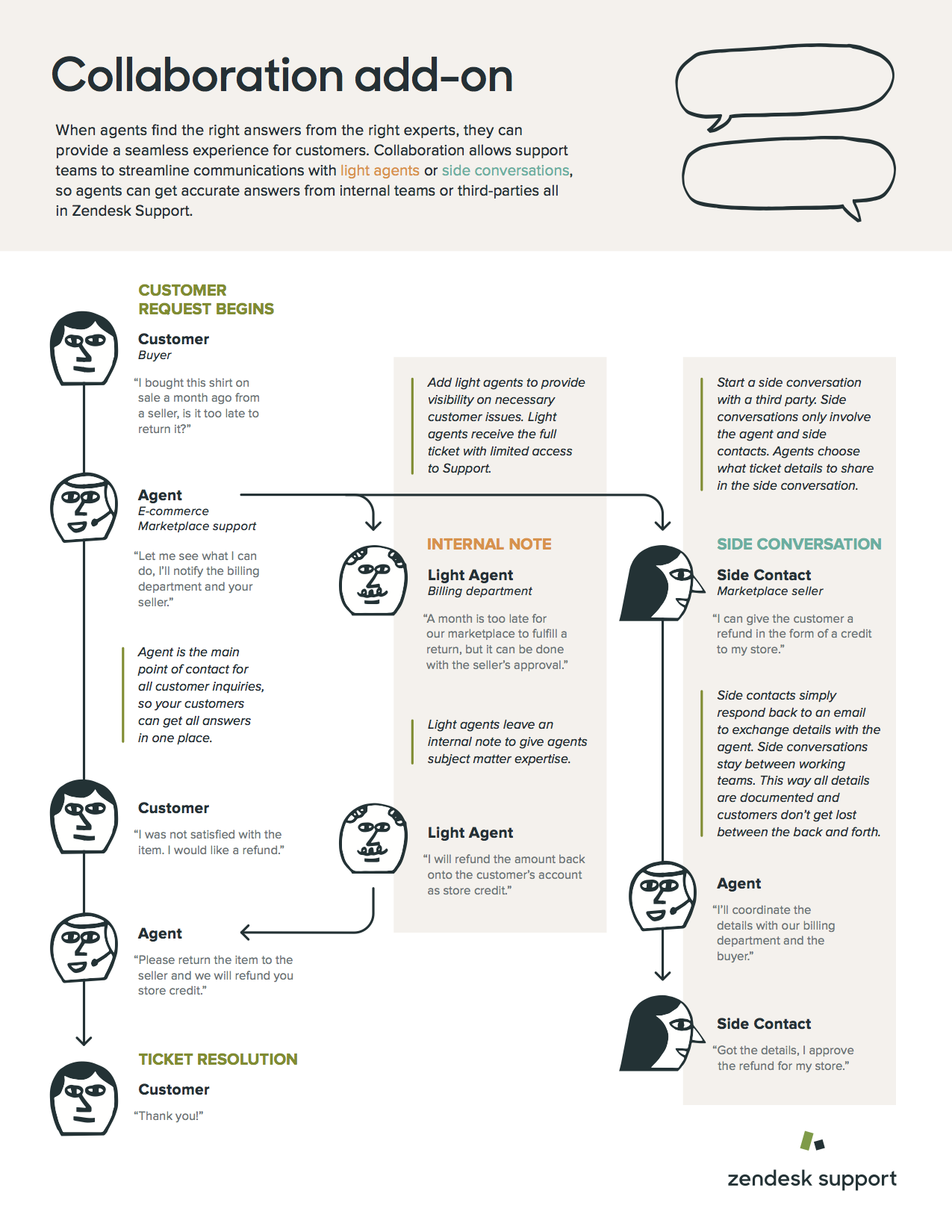 Though all of the conversations are contained within Support, collaborators across the business can respond directly from their email client—no need to learn or download a new tool. And, in addition to finding the right answers faster with streamlined workflows, the efficiency helps decrease first-response time (FRT) for even the most complex organisations.
"It provides a way to communicate outside the ticket to the rest of the business, without leaving the ticket," says Zac Garcia, Manager of Global Customer Care Operations at Fossil Group. "This is a game changer for Support."