Help centre or help desk? How to differentiate between these powerful self-service tools
Published June 18, 2020
Last updated June 18, 2020
According to Zendesk's Customer Experience Trends 2020 report 69% of customers prefer to resolve issues on their own. And nearly two thirds (63%) of customers even start with a search on a company's online resources section when they have a problem. So, it's no wonder businesses of all sizes, from SMBs to large banking networks, are rethinking how they use help desks and help centres as a way of providing customers with fast, efficient responses while reducing the pressure on the customer service department. But how do they differ from each other?
Help centre vs. help desk
A help centre, also known as a knowledge base, collects content from your website and offers it as a self-service tool to customers. Think of an FAQ section on a website, or a search button on a help page where you can immediately find the answer to your question without having to contact a customer service agent. This speeds up resolution time and increases customer satisfaction. Zendesk's Benchmark of more than 45,000 companies shows that companies that leverage the most customer data see 36% faster resolutions and a 79% reduction in wait times.
Find out more about Zendesk's Help Centre Software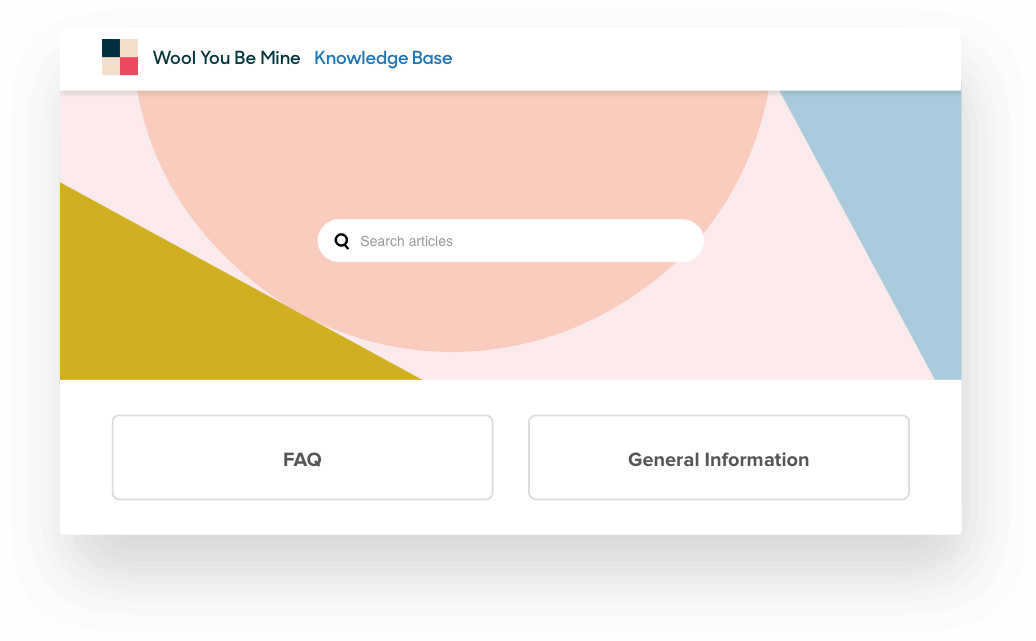 A help desk also offers self-service to your customers, but has a centralized customer service team, supported by a platform for engagement to manage more complex or urgent customer conversations when self-service alone isn't enough. The technology enables support agents to track, prioritise and solve customer support tickets in a systematic way, unifying all of your support channels in one single platform.
Connecting these channels in one platform also gives the customer service team an overview of all previous customer interactions in one place, enabling agents to serve customers in a fast and personalized way across the channels they prefer. At the same time it allows teams to customise workflows and gain useful insights into customer data through embedded analytics.
But it doesn't stop there: Companies across all industries have rapidly embraced the opportunity to streamline their customer support through automated systems such as chatbots or other artificial intelligence-driven technologies. AI-enhanced automation tools are designed to increase agent productivity, but they also enable faster resolution times, better process handling and ultimately drive higher customer satisfaction. Firms are increasingly embracing the potential of AI to improve customer service: Over the past two years the number of issues solved through Answer Bot deflections has increased 4.5 times in the major economies in Europe.
Choosing the right software for your business
When a business evaluates which software to pick, it is important that it aligns well with your customer strategy, integrates with your existing business systems and is easy to set up. Self-service tools need to be customizable and scalable to be able to support the growth of your business at any stage of your company's development. Being able to integrate automation tools, apps or widgets and allowing for omnichannel service based on the preferred channels of your customers are other key considerations.
Measuring success
As customer expectations are rising, it is critical that your customer experience tools are focused on the right metrics. When it comes to measuring success, 46% of teams focus on increasing the customer satisfaction score (CSAT) as their key indicator according to our 2020 Customer Experience Trends report.
For many companies a help desk, integrated with a robust help centre, is the preferred way to seamlessly connect with customers, increase customer satisfaction and gain a competitive advantage. Arming your help desk team with the right tools, they can deliver the kind of help experience that drives satisfaction and loyalty - giving customers fast, efficient resolutions to their issues in the way they want it. And it pays off: It's no coincidence that High Performers are 76% more likely to offer self-service according to our Benchmark data. Yet, only 28% of companies currently offer a knowledge base, help centre or FAQ.
Find out more about how Zendesk Support Suite can help your teams deliver a better customer experience with help desk and help centre solutions.