Making digital CX more personal
Article
3 steps to make digital CX more personal
Published August 18, 2021
Last updated August 19, 2021
Nothing has accelerated the digital shift quite like the recent pandemic. Within some weeks businesses had to manage a 20% increase in weekly support tickets. The ongoing lockdowns across the UK and continental Europe have formed new habits and many customers intend to stick to them.
In order to keep up with the accelerated digital transformation that has been taking place since March 2020s, it is important to rise above the average and provide personalised support tailored to your customers' needs. Our Zendesk CX Trends Report 2021 confirms that 75% of customers are willing to spend more to buy from companies that give them a good customer experience.
Discover three important steps you can take to give your customers a personalised experience.
1. Building agility into your support teams
It is now more important than ever to adapt to the evolving needs of customers. Providing better online customer support entails support teams quickly scaling their operations by streamlining workflows across teams and adding features to boost productivity. A quick and easy adaption tops the post-COVID priority list as flexibility is key for 2021 and boosts efficiency from within.
We know that offering multiple channels to customers and using workflow management tools boosts efficiency and speed which, in turn, leads to happy customers. Channels such as WhatsApp, AI and Facebook messaging are the app by preference both for Europe and the UK. Whatsapp saw a 88% increase in usage compared to the start of pandemic, SMS a surge by +128%.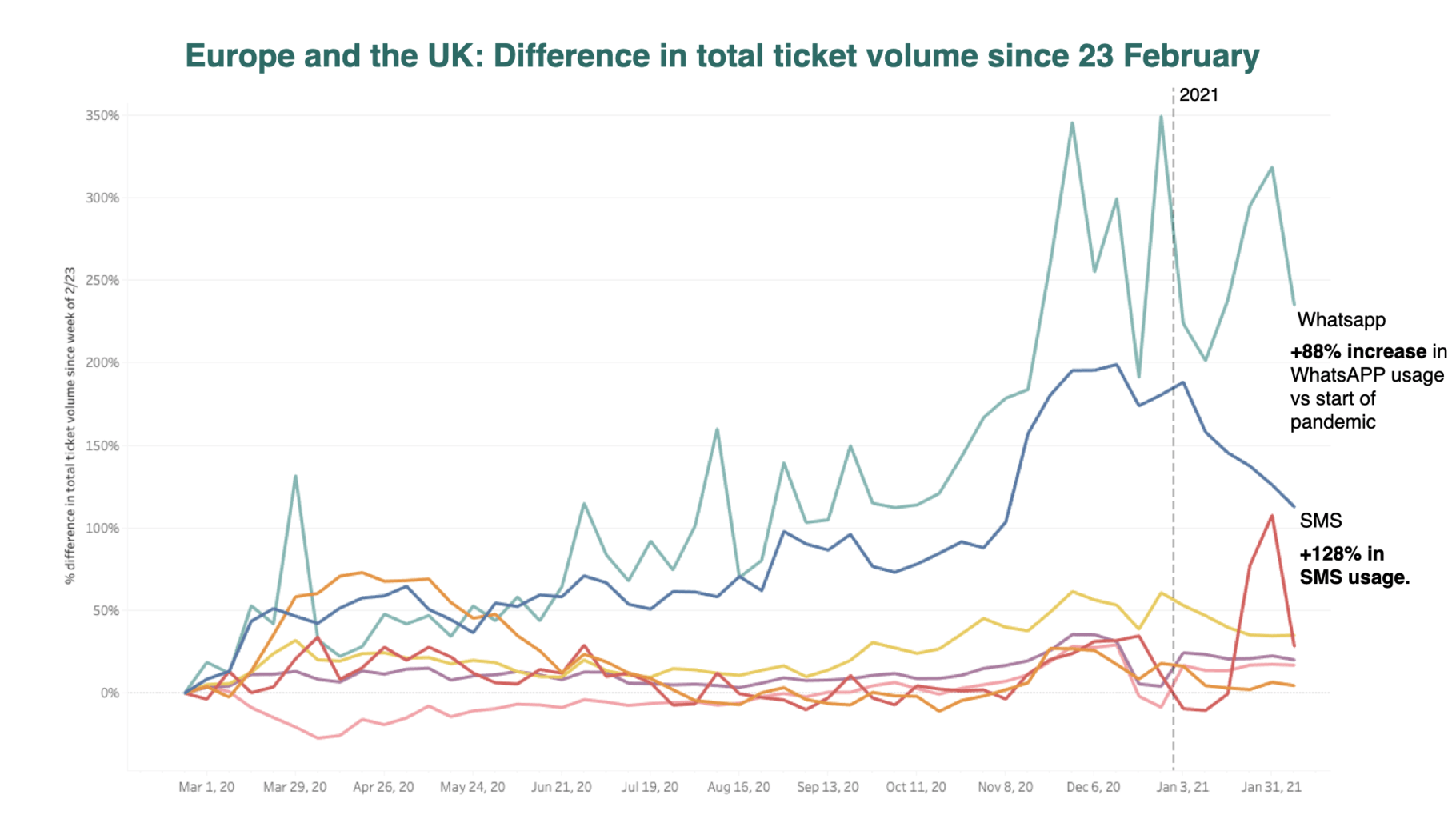 2. Develop an online experience based on customer empathy
Offering a friendly and fast service is not enough. Customers sympathise with t companies that share their values. Globally:
49% of the customers surveyed wants agents to be empathetic.
54% wants to buy from companies promoting diversity, equity and inclusion within their workplace.
63% wants to buy from companies that are socially responsible.
In order to connect with your customers on a deeper level, you need to look at your customer data as they are the key to building meaningful relationships. Subscription details, personal details and chat history are all important factors in creating the best customer experience.
3. Use apps and integrations
Messaging apps have surged to an estimated 2.27 billion monthly users around the globe and support requests over apps like WhatsApp and Facebook messenger spiked significantly during the pandemic. It is no surprise that 53 per cent turned to messaging, including apps like WhatsApp, SMS/texting and messaging embedded in a company's own website.
Custom-built apps also allow you to get a complete view of your customers with past conversations and purchase history, all available in a unified view managed from your workspace.
75% of company leaders agree that the global pandemic has compressed the timeline for acquiring new technologies as companies seek new ways to reach customers and connect distributed teams. If you want to find out more about why digitalisation needs to be complemented with agile practices and easy of use, tune in to Zendesk: the Digital Tipping Point Podcast.
Zendesk: The Digital Tipping Point Podcast
Discussing why customers are moving to more digital channels and how companies can manage this by adopting new customer service technologies.