Outbound call center: A guide
Upgrade your phone campaigns with outbound call center software.
A guide to the best outbound call center
Last updated November 21, 2023
In the not-too-distant past, customers had few choices when they needed to contact a company.
Today, customers can use chatbots, email, live chat, Zoom calls, social media, and more to contact brands. Yet, even today, most customers use the phone to resolve issues with a company.
But handling customer inquiries via phone introduces complications and costs. Fortunately, outbound call center software and outbound calling services help mitigate the expenses of setting up and administering phone support.
And, good software makes phone support more efficient with time-saving features like intelligent call routing.
Given its importance to your business, on this page we'll provide you with an in-depth overview of outbound call center software. We'll review the following topics:
What is an outbound call center?
Traditionally, an outbound call center was a room full of desks, phones, and computers occupied by agents. Today, outbound call centers can be virtual too.
In either case, though, an outbound call center is simply a group of agents making calls to clients or prospects on behalf of their business. Agents in outbound call centers are typically trying to make sales, raise funds, or do research. Though it's less common, businesses may also set up an outbound call center to provide proactive customer service.
Why should you use an outbound call center?
You should consider an outbound call center if your business does any of the following:
Makes sales or sets sales appointments via telephone

Conducts research through telephone polls or interviews

Provides phone support for proactive customer service

Reaches out to existing customers for renewals
Of course, just because your business doesn't do any of the above doesn't mean a call center isn't worth considering. Any activity that requires a high volume of outgoing calls could run smoother with an outbound call center.
Who uses outbound call center software?
Outbound call center software use is most common in companies in the healthcare, technology, financial services, retail, and e-commerce industries. That said, it's not at all uncommon to find companies in a wide variety of industries that use call center software.
What do outbound call center services cover?
It's not uncommon for organizations to outsource some or all of their outbound calling through third-party outbound call center services. Different outbound call centers companies vary but outbound calling services generally cover one or more of the following:
Lead generation

Appointment setting

Scheduled callbacks

Customer surveys

Telesales, upsales, and renewals

Competitive market research
If you decide to keep your outbound calling in-house, you'll need an outbound call center solution that doesn't get in your way. That means choosing a solution that provides (at a minimum) the features you need to get started.
Of course, more sophisticated solutions may have additional features but the fundamental ones to look for include:
CRM, help desk, and other integrations
Outbound calling agents need to know whatever they can about the people they're calling to provide the best service. Previous order information, account details, and other contextual data enable agents to personalize their outreach. This is why tight integrations between your outbound call center software and your CRM and/or helpdesk become vital.
Fortunately, most outbound calling solutions do include some basic integrations. And through CTI, most solutions also integrate call data with your computer which makes tracking much easier. You'll find, however, that the best outbound calling center software includes even more integrations that help make it easier for you to unify the outbound calling experience for your agents, managers, and customers.
Call tagging, recording and monitoring
As an outbound call center scales, managing agents becomes an exponentially larger job. And that's where call tagging, recording, and monitoring come in handy.
Tagging helps you organize calls by agent, customer segment, time of day, or just about any other parameter you decide on. That way, if needed, you can easily look back into your call data and pull recordings to review for performance reviews, training sessions, or disciplinary action.
Call monitoring is also an indispensable feature for managers because it enables them to keep tabs on agents in real-time. This can be especially useful for new hires, who managers may need to provide assistance to if a call is going poorly.
Call center analytics and reporting
While call recordings enable managers and agents to review specific calls, call center analytics provides high level performance call center metrics. Managers can use call center analytics and reporting to set goals and monitor progress, evaluate performance, and root out potential problems. Among other things, call center analytics enable you to see things like average talk time, missed and declined calls, transfer rate, call abandonment rate, and average speed of answer.
Power dialers
If you've ever worked as or with an outbound calling agent, you know how much time can be squandered dialing. Not only do you have to manually punch numbers in, but you also end up wasting time dialing phone numbers that aren't active or don't answer. Power dialers eliminate this wasted time by dialing numbers automatically and connecting a live agent when a prospect actually picks up. Not all outbound call center software haves this feature, but it's a game-changer for larger operations.
What are the key benefits of outbound call center software?
Improved service channel continuity
If your company is like most, you're likely managing more than one service channel. And as service channels multiply, maintaining continuity in the customer experience gets more difficult. Fortunately, good outbound call center software improves your company's ability to provide a unified customer experience.
That's why it's important to look for call center software that integrates well with your existing tools. The more unified your internal processes and tools are, the more unified the customer experience.
Faster and more effective outbound calling
Outbound call center software makes your outbound calling simultaneously faster and more effective. Features like automatic dialing and CRM integrations allow agents to focus on talking(not dialing) and it equips them with critical context about the customer. Outbound call centers also help managers do their jobs better with capabilities like availability-based call routing optimization.
Reporting and analytics facilitates learning
Most quality call center software options come with at least a basic level of reporting and analytics. This allows savvy call center managers and agents to set goals, track progress, and analyze performance. All that adds up to higher quality and faster learning as well as improved overall productivity. Using call center software, you can measure customer service metrics such as:
First Response Time

Call Volume Trends

Call Handle Time

First Call Resolution (FCR)

Quality of Recent Support

Average Wait Time
What is the difference between inbound and outbound contact centers?
The difference between inbound and outbound contact centers comes down to function. Inbound call centers receive calls while outbound call centers conduct calls. There's also a third type of contact center, called a hybrid contact center, which receives and makes calls.
Here's a quick look at inbound and outbound call center uses cases that help illustrate the difference between the two:
Outbound call center use cases
Generate and qualify leads via cold outreach.

Conduct market research to pinpoint customer preferences and analyze competitors.

Provide phone support for proactive customer service
Inbound call center use cases
Receive and respond to support calls from existing customers.

Process orders and payments and deal with payment issues.

Inquire with customers about upgrades and/or renewals
Top 15 outbound contact center software
Zendesk

RingCentral

Avaya

Aircall

Zoho Desk

HubSpot

Vonage

TalkDesk
Freshdesk Contact Center

CloudTalk

Webex Contact Center

LiveAgent Contact Center

Dixa

Dialpad

Twilio Flex
The call center software of Zendesk's suite of solutions is an integrated voice solution that facilitates a modern customer experience. Zendesk is flexible enough to suit the needs of a wide variety of businesses yet powerful enough to enhance the work of sophisticated sales and service operations.
Seamless phone communication
Use Zendesk to make requesting and receiving phone support effortless for your customers with a call button that connects your mobile app or website to Zendesk. Make it easy for your agents too with unified conversations across calls, voicemails, text, email, chat, and social messaging.
Cost-effective, quick implementation
Zendesk enables you to plug your own outbound call center solutions into any one of Zendesk's 90+ telephony providers. In the unlikely event one of our providers doesn't work, you can always build your own integration. And thanks to the powerful extensibility of Zendesk, you can upgrade your voice capabilities by connecting new services and tools.
The right agent, at the right time
With features like group routing, overflow and after-hours routing, and interactive voice response (IVR), you can make sure customers go to the right agent at the right time. And you have ultimate control of the logistics of your call center. Among other things, Zendesk enables you to configure maximum queue size, wait time, and callback settings.
Features of Zendesk
Group, overflow, and after-hours call routing

IVR

90+ telephony providers

APIs, webhooks, and SDKs

Omnichannel integration

Dashboards and reporting

Voicemail and text messaging

Call recording

Priority phone numbers

Calling web widget

Outbound caller ID and call blocking

Click-to-call

Mute and call forwarding
RingCentral's outbound contact center software is a hybrid solution so it includes inbound calling features as well. Because it does double-duty as an inbound and outbound calling solution, RingCentral is well-suited for teams with robust needs. However, if you're just getting started with your outbound call center, many features may go unused.
RingCentral's Ultimate Plan, which you'll need for outbound calls, features predictive dialers, agent scripting, advanced IVR, omnichannel routing, and more. RingCentral does not publish pricing for their outbound calling software, so you'll need to contact sales to decide if it fits your budget.
Pricing:
Not available
Features of RingCentral Ultimate
Automatic call recording

SSO

Multi-site admin and management

Hot desking

Popular CRM integrations with Salesforce, Zendesk, and more

Industry-specific integrations with Canvas, Smarsh, and more

Developer platform and custom integrations

Advanced call handling including whisper, barge, and more

Video meetings with up to 200 participants

Real-time analytics
Learn more about Zendesk for RingCentral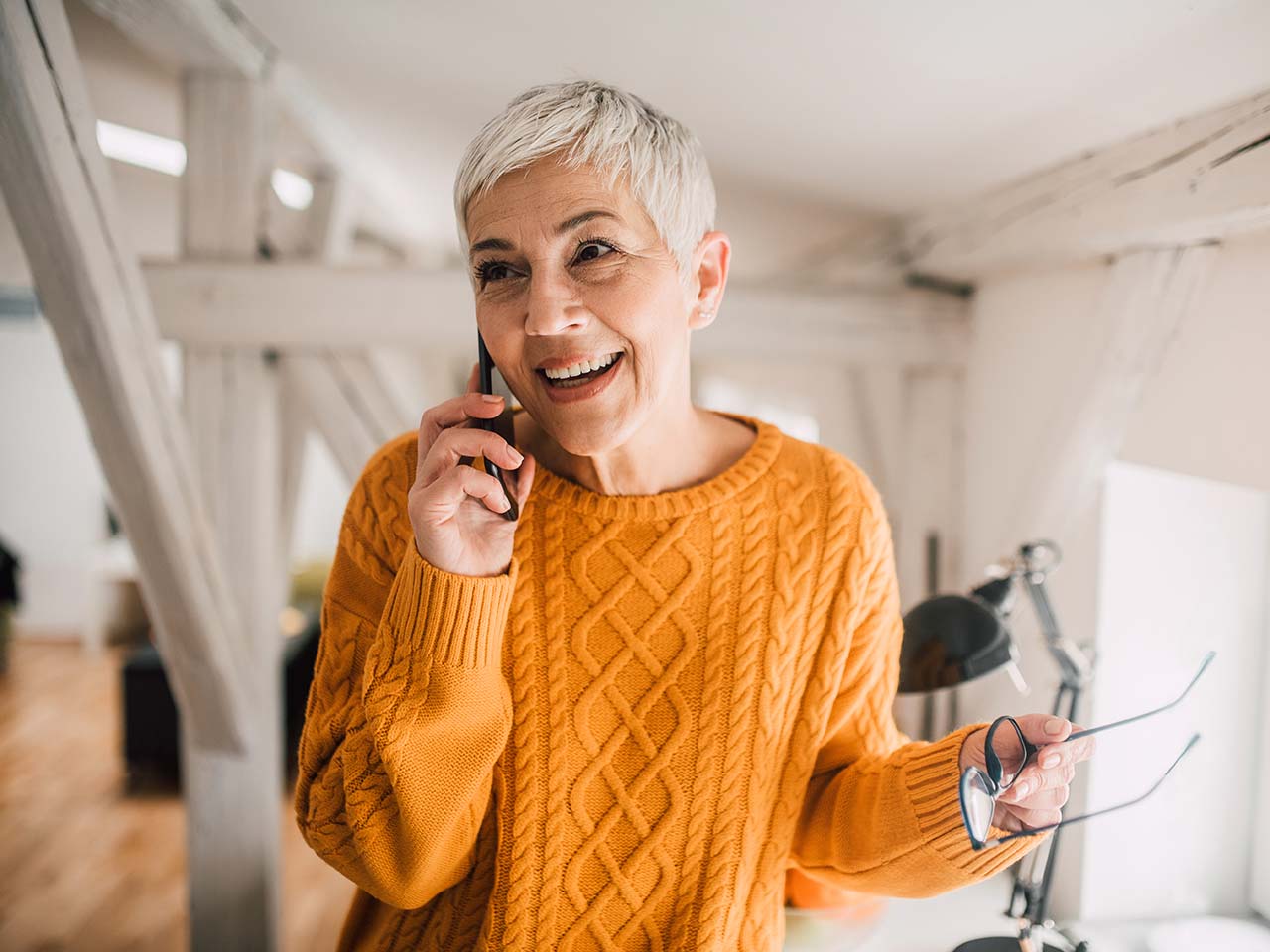 Avaya offers a large selection of solutions, but their outbound call center software is available in their Voice package. You can also opt for their All Media package (which is more expensive than Voice) or you can create your own. Whichever package you choose, though, Avaya is packed with powerful features.
Among other things, you can use Avaya to facilitate AI-powered self-service automation, intelligent routing, and workflow customization. Plus, you can bring your own voice and/or chatbots to make the outbound calling experience even more efficient. Avaya's voice package starts at $71 per user, per month. If you opt for the All Media package, that cost goes up to $111 per user, per month.
Pricing Plans:
Digital: $41 user/month

Voice: $71 user/month

All Media: $106 user/month
Features of Avaya
Inbound and outbound voice​

Intelligent routing​

Call recording​

Customizable interface

Visual workflow configuration

Bring your own voice bot and/or chatbot​

Reporting and analytics

Unlimited email, web chat, and text messaging
Learn more about Zendesk for Avaya
If you're aiming for improved productivity for your sales team and tight integration with your existing CRM or helpdesk, Aircall is worth a look. This software features computer telephony integration that makes integrating with your helpdesk or CRM as easy as clicking a button.
From there, your outbound calling team can trigger automations, monitor call activity, and much more, all from your CRM or helpdesk. All of Aircall's plans include unlimited outbound and inbound calling within the United States and Canada. Their most affordable plan starts at $30 per user, per month, and you can do a 7-day free trial of an Aircall plan.
Pricing Plans:
Essentials: $30 user/month

Professional: $50 user/month
Features
Call analytics

API and webhooks

Voicemail by email

Post-call automations

CRM and helpdesk integrations

Intelligent dialing

Click-to-dial

Call tagging

Call monitoring and whispering
Learn more about Zendesk for Aircall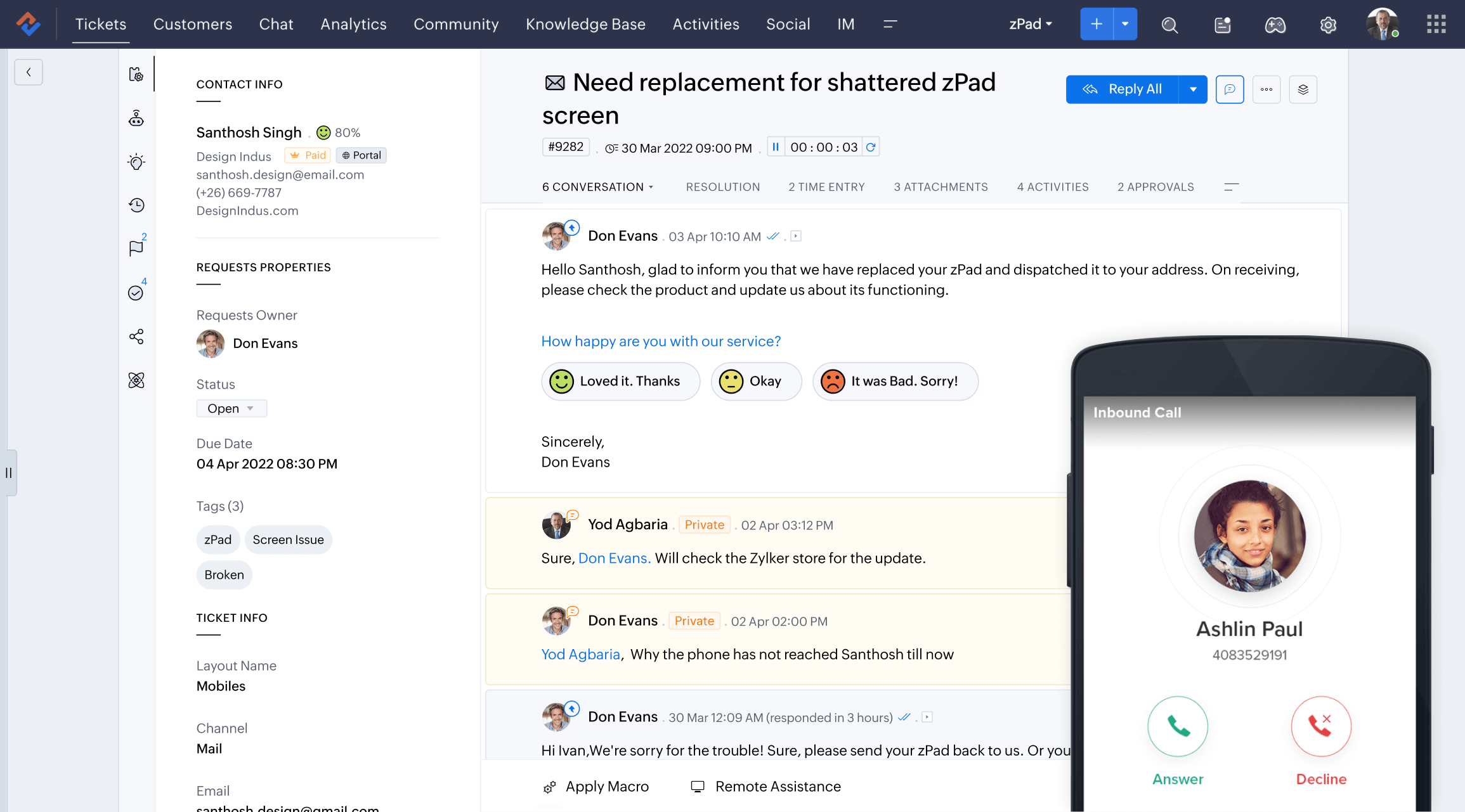 You may know Zoho Desk as a helpdesk solution, but it also includes powerful outbound call center software. Zoho's customer service telephony is cloud-based and easy to hook up, especially if you're already using Zoho Desk.
The native integration between Zoho's help desk software and contact center software creates great synergy between the tools. For example, when customers leave voice messages, the Zoho Desk helpdesk logs those voicemails as new tickets. From there, it's a seamless process for agents to manage and respond to the inquiry. To access Zoho Desk's call center features, you'll need either the Professional or Enterprise plan which costs $35 and $50 per agent, per month, respectively.
Pricing Plans:
Standard: $20 user/month

Professional: $35 user/month

Enterprise: $50 user/month
Call Center Features of Zoho Desk Professional
Calls reports and dashboards

Agent availability tracking

Call-to-ticket conversion

Call logging

Call transfer, recording, hold, and mute

Call queue management

Zoho Desk CRM & helpdesk integration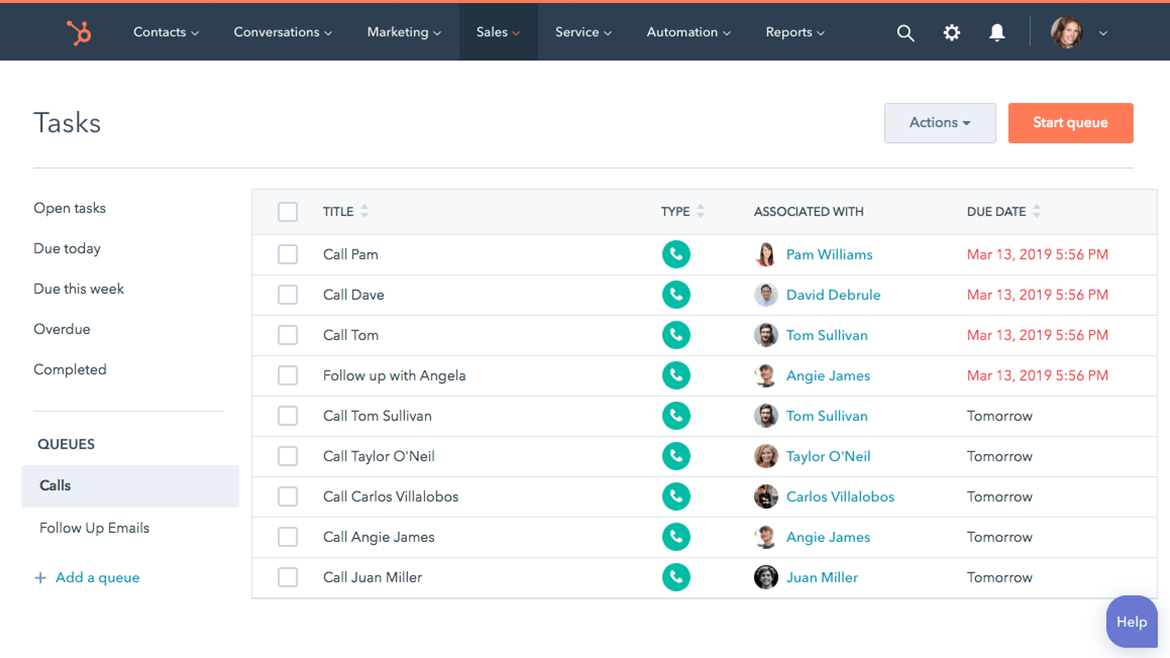 While HubSpot is much more than just outbound call center software, it's flexible enough to suit your call center needs. HubSpot can also integrate with a wide variety of call center tools, which enable you to use your preferred call center software on top of HubSpot's popular CRM as well as its sales and marketing tools.
Along with its robust reporting features, HubSpot includes automation tools, shared email inboxes, self-service tools, and live chat. To get HubSpot's software up and running, you'll need to start with their Sales Hub plans. These range from $45 to $1200 per month and you may incur additional fees depending on which call center tools you want to integrate with HubSpot.
Pricing Plans:
Starter: Starts at $45 per month

Professional: Starts at $360 per month

Enterprise: Starts at $1200 per month
Features
Live chat

Simple automation

Email health reporting

Conversation routing

1:1 video messaging

HubSpot mobile app

Tracking and reporting

Shared inbox
Learn more about Zendesk for HubSpot
Designed to improve the customer experience from the inside out with powerful agent tools, Vonage Contact Center is a customizable outbound call center software with solid features out-of-the-box and many add-ons available. While Vonage integrates with many popular CRMs and apps, such as Zendesk and HubSpot, it has particularly tight integrations with Salesforce.
For example, Vonage only offers omnichannel support if you're a Salesforce user. However, Zendesk, Microsoft Dynamic, and ServiceNow users can leverage video and screen sharing with Vonage Contact Center. Vonage is available in four different plans, and you'll need to contact the company through their website for a price quote.
Pricing:
Not available
Features of Vonage Contact Center Essentials
Salesforce integration

IVR and ACD

Click-to-call

Screen pop-ups

Call recordings

Supervisor portal

Real-time activity dashboards

Skills-based call routing
Learn more about Zendesk for Vonage
With capabilities to handle inbound and outbound calls, Talkdesk is a hybrid call center solution deployed on the cloud. Using Talkdesk, outreach agents and their managers can streamline outbound call workflows. Plus, the intuitive Talkdesk mobile app makes it possible for sales reps to handle outbound calls at any time, in any place.
Talkdesk is exceedingly flexible too, with features like after-hour and/or part-time staffing options. Talkdesk offers four plans varying in price from $75 to $125 per user, per month. The CS Cloud Elevate plan ($95 per user, per month) is the most affordable option that doesn't sacrifice calling features. While there's no free trial of TalkDesk's plans, you can request a demo on their website.
Pricing Plans:
Essentials: $75 user/month

Elevate: $95 user/month

Elite: $125 user/month
Features
Screen recording

Conversations mobile app

Feedback

Virtual agent

Self-service portal

60+ out-of-the-box integrations

80+ AppConnect marketplace

API access

Real-time dashboards
Learn more about Zendesk for Talkdesk
Formerly known as Freshcaller, Freshdesk Contact Center is a solid, cloud-based outbound call center software option. Whether you're looking to set up a local or international call center, you can purchase a toll-free number, sync your CRM, configure your call dashboard, record calls, and more using Freshdesk's contact center software.
Freshdesk offers four contact center plans ranging from their free plan to the Enterprise plan which costs $79 per month, per user. All plans have additional fees based on usage. For more advanced features, such as routing automation, power dialer, call monitoring, and more, you'll need at least the Pro plan, which starts at $49 per agent per month plus usage fees. You can do a free trial of any Freshdesk Contact Center plans.
Pricing Plans:
Growth: $15 user/month

Pro: $49 user/month

Elite: $79 user/month
Freshdesk Contact Center Features
Up to 3000 incoming minutes/month free

Advanced call metrics

Call barging

Call center agent monitoring

Virtual hold

Automated routing

Power dialer

Call monitoring

IVR

Custom reports

Call tagging

Smart escalations
CloudTalk's cloud-based inbound and outbound call center software was one of the best-rated call center tools for SMBs in 2020. Through CloudTalk, you can purchase a new call center phone number in more than 140+ countries. And its simple user interface can be a great fit for small call center teams who are starting to ramp up operations.
CloudTalk's popular features include smart dialing, call recording, 2-way sync, and intuitive CRM and help desk integrations. CloudTalk offers three pre-assembled packages ranging in price from $25 to $50 per month, per user. However, to enable outbound calling, you'll need to opt for CloudTalk's custom plan. With the custom plan, you'll gain access to unlimited outbound calls at a flat rate.
Pricing Plans:
Starter: $25 user/month

Essential: $30 user/month

Expert: $50 user/month
Features of Cloud Talk Custom Plan
Business hours

Mobile app

Unlimited inbound and outbound calls

Unlimited call queuing

International numbers (over 140 countries)

Analytics with unlimited history

Power dialer

Call monitoring

SLA support
Learn more about Zendesk for CloudTalk
Webex Contact Center by Cisco is a worthy contender in the call center software space. To start, this cloud-based solution is relatively quick and cost-effective to deploy. With its full feature set, Webex can suit businesses with up to 1000 remote or on-site agents working at the same time. However, Webex may also be a fit for companies just getting started that want to quickly set up a basic outbound calling center.
To access Webex's contact center features, you'll need their Call Plan, which starts at $17 per user, per month. You can also opt for the Meet + Call plan which includes various meeting features as well contact center features. Or, you can work with Webex to build a custom plan for your needs.
Pricing Plans:
Meet: $15 user/month

Call: $17 user/month

Meet + Call: $25 user/month
Webex Contact Center Features
Call waiting, hold, transfer, and forwarding

Conference calls

Visual voicemail

Unlimited domestic and local calling

Unlimited messaging

Screen sharing

Call recording

Interactive whiteboarding
Learn more about Zendesk for Webex
Just about any telephony communication you need to do for your business, you can do with LiveAgent's cloud-based call center software. Local and internal calls as well as inbound and outbound calling are all supported. LiveAgent is specifically designed to help facilitate proactive customer support, product or service renewals, and upsales or cross sales.
Like Zoho Desk, Zendesk, and a couple other options on this list, LiveAgent is actually a full-featured help desk. The call center software is just one part of it. To unlock call center support, though, you'll need LiveAgent's All-inclusive plan, which starts at $39 per agent, per month. If you'd like to try LiveAgent's call center support, you can sign up for a free 14-day trial.
Pricing Plans:
Ticket: $15 user/month

Ticket + Chat: $29 user/month

All-inclusive: $39 user/month
Live Agent All-inclusive Plan Features
Video calls

IVR

Call transfers and routing

Unlimited call recordings

Chat satisfaction surveys

Advanced reporting

API and integrations

Live chat

Unlimited agent devices
Dixa's simple user interface delivers an easy yet powerful experience for both managers and agents. The software runs in your browser and offers robust customization options. Advanced calling features of Diva allow managers to hop in on calls and provide guidance in real-time. And the software works with both inbound and outbound calling.
Each of Dixa's three different plans (Starter, Advanced, and Unlimited) include varying degrees of call center features. To obtain pricing information for the different plans, you'll need to contact Dixa through their website.
Pricing:
Not available
Features
Click to call

IVR

Call forwarding, recording, and monitoring

Voicemail

Custom wait music

In-queue phone position announcements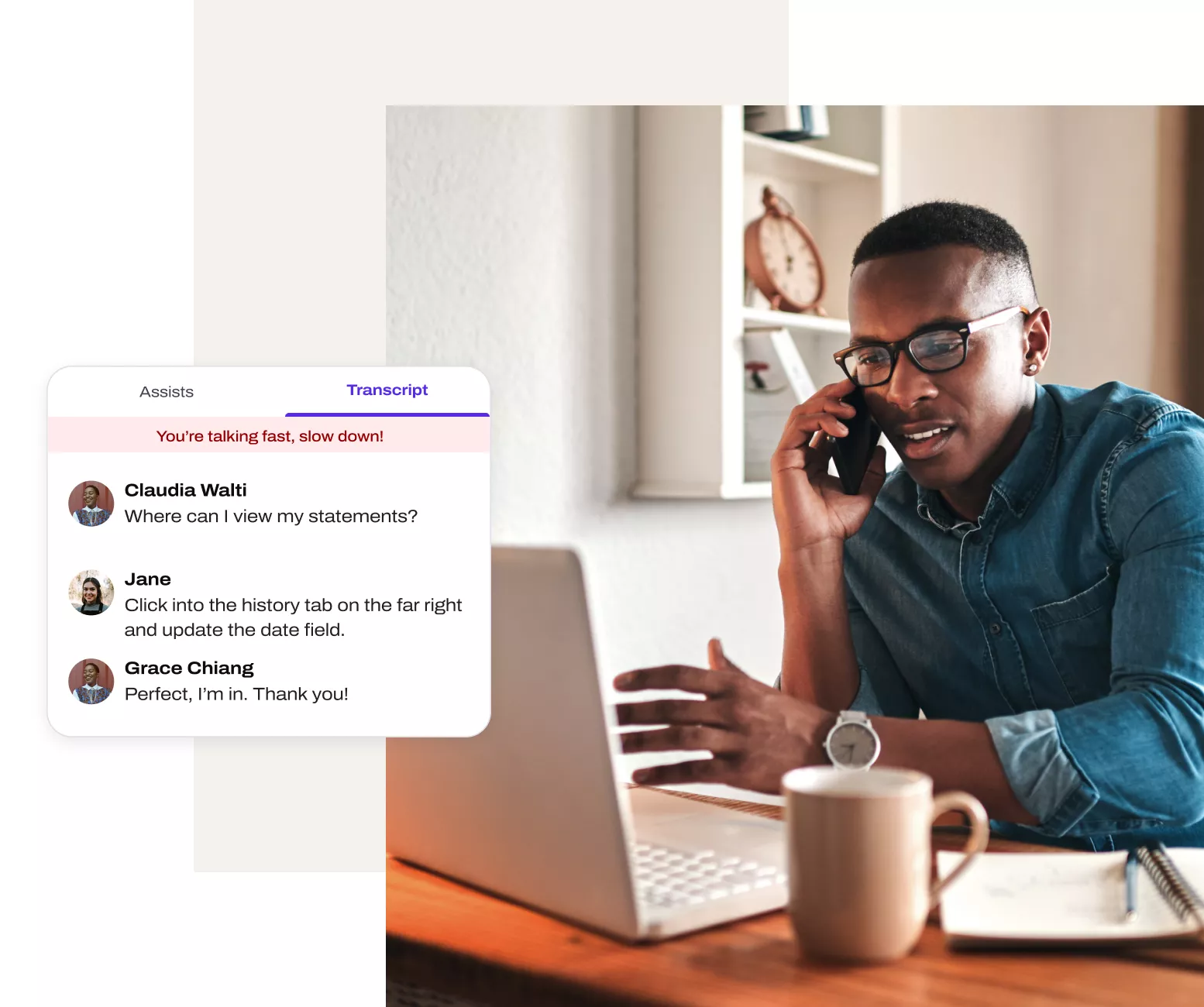 Dialpad offers robust inbound and outbound call center software with unique features such as real-time transcription and sentiment analysis. Dialpad also features built-in AI that surfaces call scripts for difficult questions to make agents as productive as possible. And its mobile app allows you to stay connected from anywhere on any device.
Dialpad offers two versions of its hybrid call center software, Pro and Enterprise. Pro requires you to purchase a minimum of 3 licenses and Enterprise requires 100 licenses. In terms of features, the Enterprise Plan has everything Pro does plus custom business rules, 100% uptime SLA, 24/7 phone support, and custom dashboards. To get pricing for either, you'll need to request a quote on Dialpad's website.
Pricing Plans:
Standard: $15 user/month

Pro: $25 user/month

Enterprise: Not available
Features
In-Queue callback

Manager alerts

Real-time transcription

Sentiment analysis

Smart dialer

Analytics and reporting

Call history

Toll-free number support
Learn more about Zendesk for Dialpad
Though it's a little different than the rest of the contact center software on this list, Twilio Flex is fully capable of empowering your outbound calling team. Rather than a standalone product, Twilio Flex is a fully programmable call center platform. If you have the resources, you can use Twilio Flex to build a customized outbound call center for your business.
You can use Twilio's Voice SDK to create your own virtual phone system, build web-based calling apps, transcribe calls, manage call queues, and much more. Essentially, everything you'd expect from sophisticated outbound call center solutions, you can do yourself with Twilio. Pricing for Twilio Flex is available at a flat rate of $150 per user per month or at $1 per active user hour. Twilio's Voice SDK's pricing is pay-as-you-go and depends on usage.
Pricing Plans:
Twilio Flex (per-hour pricing): $1 per active user hour

Twilio Flex (flat rate): $150 per user per month
Features of Twilio Flex with Voice
Call tracking

Embedded calling

IVR

Masked calling

Global conferencing

Call transcription

Speech recognition

Omnichannel support

Reports, dashboards, and KPIs
Learn more about Zendesk for Twilio Flex
How to choose the right outbound call center software?
Choosing outbound call center software can be downright overwhelming. To make the process a little easier, focus on these three criteria when evaluating potential software.
Quality of fit with existing/future team and software
The most powerful software isn't the one with the most sophisticated features. It's the software that your team can use, learn about, and grow with. So while you certainly want to make sure any potential software has the basic features you need, beyond that it's all about the fit with your team. If possible, take advantage of free trials so your agents and managers can get their hands on the software. Oftentimes, what looks like easy-to-use software feels clunky when it's put into production.
In addition to evaluating the quality of fit with your current needs, consider how you might grow in the future. Perhaps you expect call volume to increase or you'd like to enable more advanced tracking capabilities in the future. Whatever the case may be, it's important that the software you select can grow with your organization as your needs change.
Expected speed and quality of service vs. cost
As with most things, you generally get what you pay for when it comes to outbound call center software. But not all outbound calling teams can maximize the more advanced features offered by premium contact center software.
So it's important to balance your needs with the cost of the service itself. Fortunately, most call center software is offered in different price tiers so you can start with the more affordable version and upgrade easily if you need more functionality.
Length of time-to-value (TTV)
One of the most important aspects of successfully implementing software of any kind is securing buy-in with your team and executives. That's why it's critical to choose outbound call center software that has a short length of time-to-value (TTV).
The shorter the TTV, the faster your new software will demonstrate its value to sales reps, service agents, managers, and executives who may be skeptical about the investment. And when solutions demonstrate real, tangible value to your stakeholders, it becomes much easier to secure buy-in where you need it.
Frequently asked questions
Ready for an outbound call center software solution?
Ready to increase customer value through renewals, proactive customer support, up sales, or all of the above? Or maybe you're seeking to gather market intelligence.
If so, an outbound call center software solution can make your and your employees' lives a whole lot easier.
Get additional information on how your team can provide better support over the phone and more about proactive support.