What's a Mobile CRM App? Mobile Sales Buying Guide & Reviews
With mobile CRM, your business goes everywhere you do.
A comprehensive guide on CRM mobile apps
Last updated June 13, 2023
In-person sales meetings allow your reps' personalities to shine, but they also come with their own challenges. When your sales team is in the field, they need to be able to answer questions and record interactions as quickly and efficiently as they would if they were sitting in front of their computers. That's why many sales teams are turning to mobile CRM for sales in the field.
In this guide, we'll go over some of the most basic questions about mobile CRM software. Then we'll review the top mobile sales apps on the market today and discuss how to select the best mobile CRM solution for your business.
What is a mobile CRM?
A mobile CRM is a fully functional sales application for your mobile device. It lets you take all the capabilities of your desktop CRM platform with you on the go. Not every sales representative works from behind a desk. But leaving the office shouldn't translate into missing out on your customer relationship management features and benefits. With a mobile CRM app, however, your sales teams can be in the field without sacrificing functionality or organization.
Why is mobile CRM important?
Your CRM helps you streamline your sales pipeline, manage your contacts, and keep track of vital customer information, all from your desktop computer. But not every sales rep stays tied to their desk. Wherever your sales team goes, your sales CRM should be able to go, too.
Your salespeople are sometimes on the road interacting with clients and prospects. They need a fast and efficient way to record important information between customer interactions. Key points like preferences and visit outcomes risk getting lost or forgotten if you wait until you're back at the desk to enter them into your system.
Some salespeople will resort to writing down notes or entering information into spreadsheets. But they'll still have to re-renter that information into their CRM later. That's error-prone and doubles their workload.
Having a CRM mobile app gives door-to-door sales teams the full functionality of a desktop CRM, so they can record critical data in real time. This means that nothing gets missed, and no one is left putting in extra hours to do the same task twice. Also, your managers will have a more accurate read of what's going on outside of the office without tracking down individual reps to ask for updates.
How do sales mobile CRMs work?
Let's take a look at some examples of how using a CRM mobile app works to help meet quotas and improve productivity.
Example #1: On the Move
An outside sales rep just left a meeting with a customer to introduce a new line of products. The customer seemed interested, but needed to consult a business partner before making any decision. The sales rep, now on the road and headed to another meeting, gets a call on their phone and sees that the customer is calling back. The sales rep answers the call, and the customer relays the good news. They want to order three of the new products in time for a big event. The customer drops a lot of important information at once, and because the sales rep is driving, they can't take notes. But that doesn't matter, because the call is being recorded through the rep's CRM mobile sales app integrated calling feature. The sales rep relistens to the conversation later and processes the order, knowing that they didn't miss a single important detail.
Example #2: Mapping it Out
A sales rep is in the field to meet with customers and prospects. Rather than juggling maps and lists, the sales rep simply pulls up their CRM mobile app. Using the geolocation services, the rep can view a map that shows where all of their customers and prospects are at a glance. After the rep visits each contact, the app automatically tags the visit as complete, and logs the outcome. With the time saved from not entering addresses and crossing names off lists, the rep is able to fit more visits into one day.
Example #3: Off the Grid
A sales rep who frequently goes off the grid for sales calls is visiting a customer. The client wants to make changes to their account. But because mobile service is spotty, the client is nervous that their updated information isn't being recorded correctly. Thankfully, the sales rep enabled offline data management on their CRM mobile application. Even without an internet connection, the client can rest assured knowing that their information is being accurately processed. Additionally, the sales rep won't have to spend time later reentering the information once they're back on the grid.
What are the benefits of mobile CRM software?
Using mobile sales tools lets you do everything with your mobile device that you can do with your desktop computer. Having on-the-go access to your CRM features means greater flexibility and freedom, as well as the following key benefits.
Access your data wherever you go

Whether you need to view your pipeline, check performance metrics, or locate a contact, having mobile custom relationship management software makes it possible. You get the information you need without having to hightail it back to your desktop computer.

Increase responsiveness

Using a sales CRM mobile app lets reps respond in real time. They never have to push off interactions until they're back in the office. And with calling integrations, customer interactions that take place on-the-go can still be logged and tagged. Nothing gets lost or has to be reentered.

Keep on top of tasks

Scheduling meetings, sending emails, confirming an order placement, to checking off your daily to-do list. All things sales reps in the field can stay on top of without getting flustered or disorganized.

Reduce time waste

Using a sales mobile CRM platform reduces the amount of work you have to perform once you get back to your desk. You can maximize your workflow and eliminate redundant tasks.

Increase customer retention rate

CRM mobile sales apps allow clients to reach sales reps more frequently, which means their needs are met with greater speed and efficiency. This boost in customer satisfaction translates into higher retention rates, as fewer customers have a reason to leave you for the competition.

Boost sales revenue

When your team is able to respond quickly and make data-driven decisions in real time, they close more deals. It removes time waste and helps them organize all of their sales activities from their handheld device. They can bypass the normal roadblocks that normally slow down success.

How can a CRM mobile sales app help customers?

You'll have a highly responsive sales rep who is able to answer their questions and process their orders quickly. Even when they're on the road. That puts customers' minds at ease. Customers will never have the big picture of what's going on behind the scenes—they'll only know that they're receiving excellent customer service.

How can mobile CRM help employees?

Using a mobile CRM system gives employees greater flexibility to perform their jobs outside of the office. Stepping away from the desk used to mean leaving behind valuable resources, but no longer. Sales teams on the road can now take their entire sales toolkit. They can close sales with just as much speed and efficiency as they would at the office.
What are the features of mobile sales CRM software?
Sales KPI dashboard: A central starting point to view charts that track activity, metrics, reports, and goals. Some dashboards are completely interactive. With a single tap on your screen, you can instantly pull up all of the underlying data for further insight into the numbers you're seeing.

Visual pipeline: Get a full view of where your leads are in their journey so you can make better decisions about your daily tasks. And spotlight any problem areas that might need extra attention.

Contact management crm system: Keep updated and accurate records on your contacts even while you're on the go. As you meet with people face-to-face, you can take note of important details right on your device. You don't have to fuss with notepads and reentering data later.

Integrations: Connect your mobile CRM software with other apps that you're already using, like calendars, email, and social media, for seamless sharing and functionality.

Task management: Keep tabs on your daily activities without carrying around notepads or planners. Create reminders that help keep you on task while you're navigating traffic or taking clients out for coffee.

Customization: Organize exactly how you want to view the features of your app so you only see the data you need to see on a daily basis.

Messaging: Keep connected with clients, managers, and team members with in-app messaging that makes it easy to share and store important information about meetings, deals, and goals.
How do you integrate a CRM mobile app?
Mobile CRM applications are available for download in the App Store for your iOS device, or on Google Play for your Android device. Even if you don't currently have a CRM account, you can still download most apps directly from your device and sign up for a limited-time trial. You can experience free CRM on the go before committing to a provider.
Top 10 mobile CRM apps and solutions
Zendesk currently offers the number-one rated mobile sales CRM app for iOS and Android that sales teams use to conduct business on the go. With seamless native mobile functionality, Zendesk provides all the benefits of a desktop CRM in the palm of your hand. Even when you're off the grid. With offline management, you can do business even in areas with spotty service, so you won't miss an opportunity.
Designed for seamless mobility, Zendesk's mobile sales CRM app comes packed with powerful features. From mobile reports that keep you on top of performance metrics, to forecasting reports, to pipeline analysis, their mobile CRM platform doesn't let you skip a beat. Whether you're stuck in traffic or conducting business sitting outside at a small-town cafe. And with visits and geolocation, your reps can quickly log and capture door-to-door outcomes and visualize their entire sales territory. Nothing slips out of view. Zendesk's app is also noted for its easy-to-use interface, making it a breeze to navigate.
Features:
Customizable dashboard

Geolocation

Analytics and reporting
Agile CRM hosts a mobile app available for iOS and Android that features an intuitive dashboard, contact management capabilities, and appointment scheduling. From its mobile dashboard, users can track sales productivity, view recent contacts, and access deals and upcoming tasks.
As part of its mobile sales enablement feature, Agile CRM mobile users can adjust relevant milestones and get a real-time picture of their progress with leads. And with Google calendar syncing, they have the ability to easily view up-to-date schedules and meetings from one screen.
Features:
Dashboard

Contact management

Marketing automation

Deal management

Gamification

Ticketing

Smart views

Project management
Pipedrive promises to maximize selling time when you're out of the office with its CRM sales mobile app. Users can access their data on or offline. And they can use guided process prompts and auto syncing to cut down on end of day administrative tasks.
See upcoming meetings and calls first thing in the morning. Get a view of what your day has in store for you. There's also a handy search bar that lets users locate any information they're looking for, like lead contact info or deal timelines. Pipedrive also allows you to sync with popular mobile tools like Google Maps, WhatsApp, and Outlook.
Features:
Caller ID

Call logging

Focus view

Integrations

Call note syncing

Google Drive sync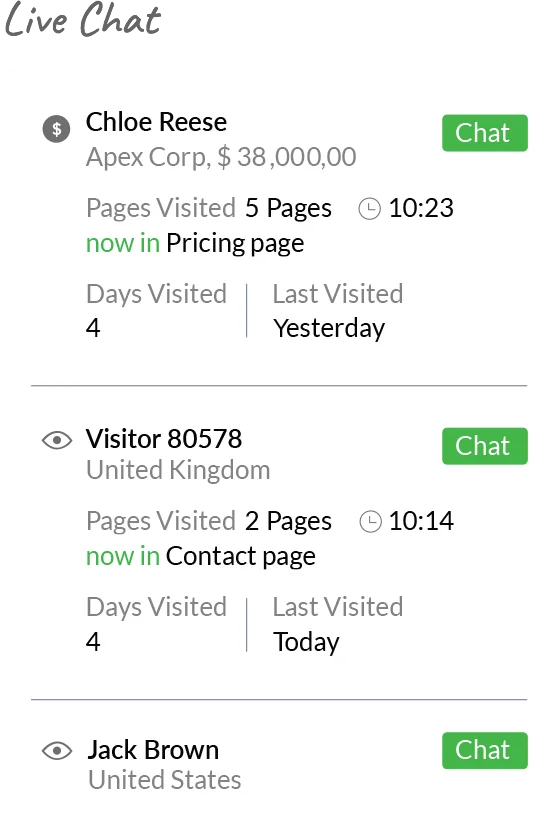 Zoho CRM offers a CRM mobile sales app that goes wherever you do. Their mobile CRM for sales lets users track daily tasks, connect with leads, view and manage their daily schedules, and monitor customer interactions all from one place.
Zoho's RouteIQ feature allows users to plan their routes to meet with leads and customers. Once their meetings are done, they can use the "near me" feature to see who else is in the area. Then navigate there directly in the app. They can check into a location, record meeting notes, and collaborate with other team members to keep them up-to-date with their progress.
Features:
Call logging

Dashboard

Data syncing

Contact management

Lead management

Voice notes
HubSpot's mobile CRM application lets users take their customer relationship management tasks on the road. It's got features for creating tasks and reminders, accessing contacts, and finding warm leads. HubSpot promises to jumpstart productivity without dropping the ball on important deals.
The new HubSpot keyboard allows users to send sales assets from any app. It also hosts a detailed caller ID screen, live chat, and microphone dictation for taking notes. Data gathered on the road is automatically synced to your CRM back in the office. Your team is always up to date with your progress.
Features:
Live chat

Email templates

Contact management

Task management

Caller ID
Freshsales offer a mobile customer relationship management application with all the standard features, like contact management and lead management. Users can track their sales activities, view critical deals details, and access data even when they're offline. Schedule follow-ups when you're on the go, and update details between meetings to save on time later.
With the check-in feature, Freshsales mobile sales CRM software users can confirm their presence even when offline. Then after the meeting, log the outcome of the interaction and record any useful notes for later reference. Users can also view overdue tasks and other important information directly from their mobile devices, and perform actions from the notification card.
Features:
Push notifications

Contact management

Activity tracking

Performance metrics

Telephony
Salesorce offers a mobile CRM sales solution that allows users to tailor their mobile experience without coding. Included with every Salesforce license, the Salesforce cross-platform app can be downloaded onto any smartphone or tablet. And with offline capabilities, users don't have to worry about weak cellular signals or commutes through areas with spotty service.
Popular features on the Salesforce mobile CRM app include its Einstein Analytics for spotting opportunities and receiving recommendations. And the Einstein Voice Assistant for capturing notes and creating tasks.
Features:
Customization

Personalized navigation

Contact management

Lead management

Dashboard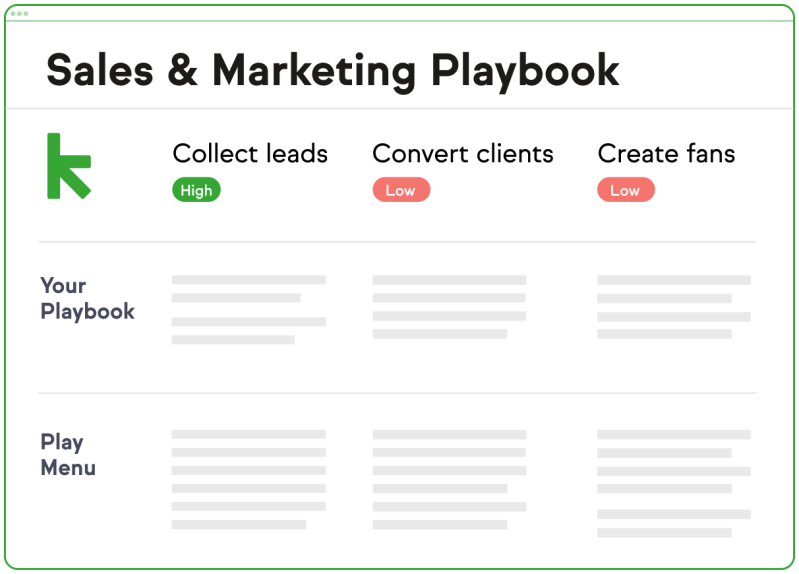 Keap's mobile CRM app allows users to access valuable customer information, track tasks, and create notes about customer and lead interactions. It offers a second phone number for conducting business that comes with unlimited calls and text. That allows you to keep your personal number private from business contacts.
Keap's mobile app doesn't include as many features as its competitors on this list. But it does still offer contact management, note features, messaging, and caller ID features. The app lets you select a personalized business number that's memorable for clients, and create auto replies for when you're unable to answer.
Features:
Contact management

Personalized business number

Auto-replies

Business card scanner

Appointment scheduler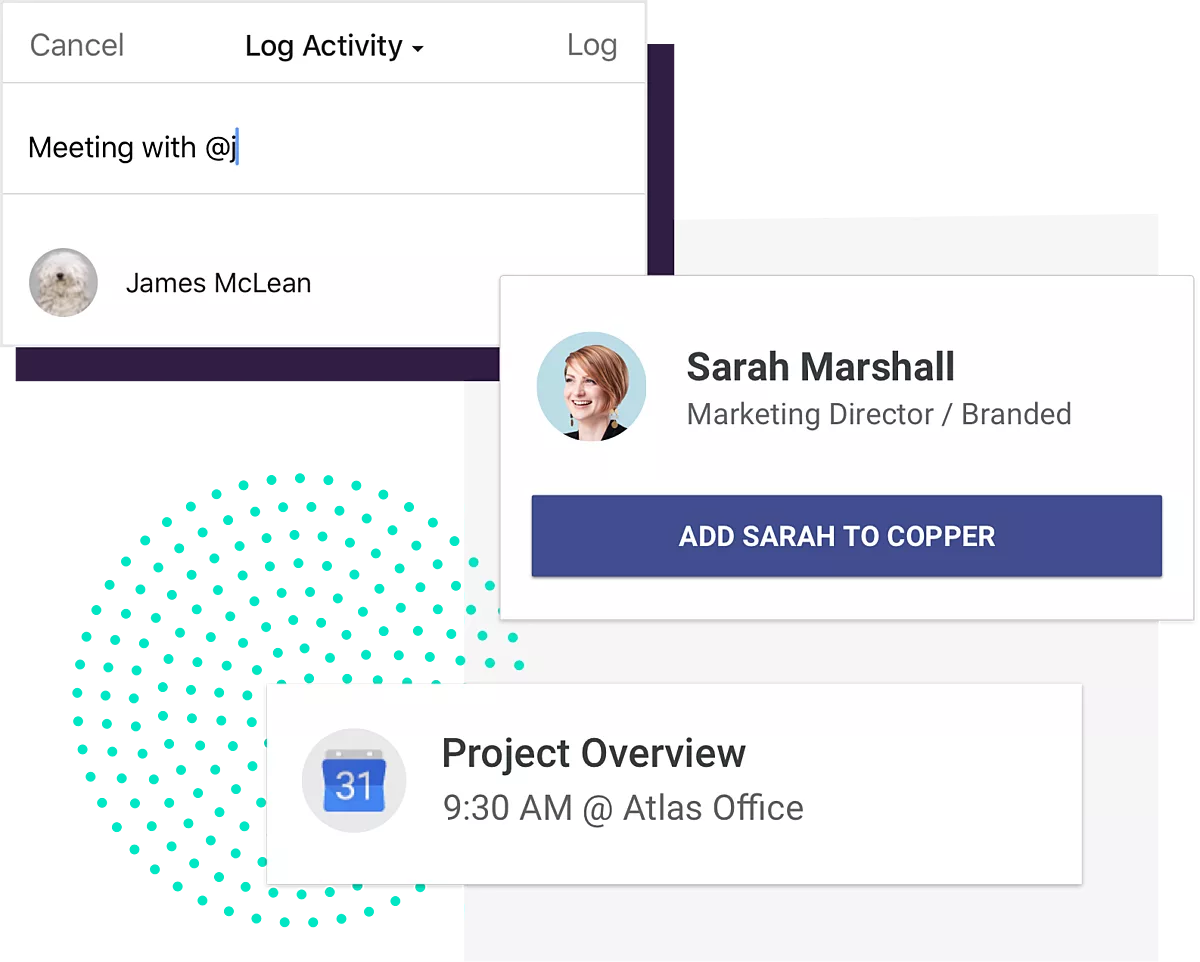 Copper's mobile CRM solution for G Suite makes keeping in touch with customers simple. Users can check up on the status of deals, alert teammates to how client meetings went, and add new contacts right after meeting them. And with a visual pipeline right on their device, they can view, sort, and filter their pipeline to see exactly where their deals currently stand.
Log notes and activities into your device by speaking into your microphone so you can track your progress hands free. Automatic syncing then keeps your information flowing directly back to your company's CRM platform, so you never have to enter data twice.
Features:
Native G Suite integration

Automated workflow

Dashboard

Reporting and analytics

Leaderboards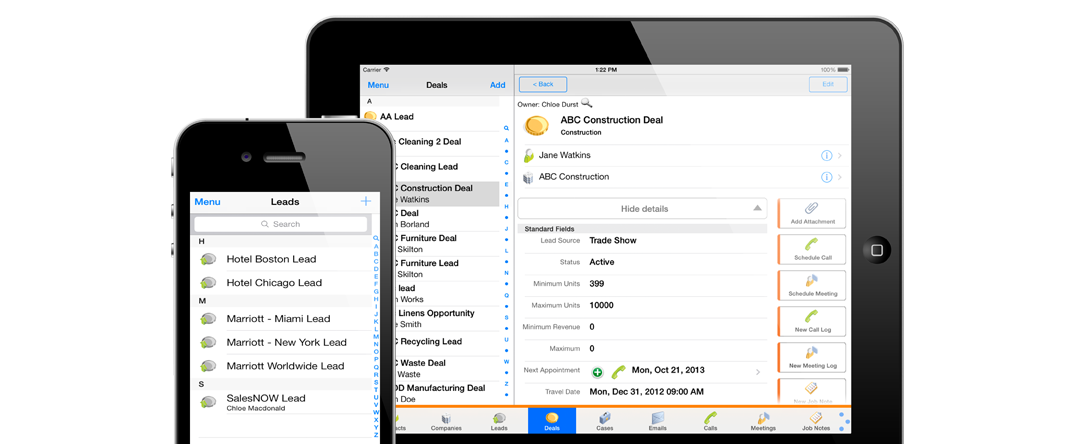 The SalesNOW CRM mobile app is available for iOS, Android, and Blackberry, and includes useful features like geolocation, mobile documents, and graphical reporting. Like many of its competitors, SalesNOW offers offline functionality for conducting business off the grid. And it offers a customizing feature for creating custom fields and settings.
With graphical reporting, on-the-go sales teams can access one touch sales reports. It's an instant view of their sales funnel or their sales history. Reports can also be saved directly to mobile devices for fast future access. And with mobile documents, users can also store their proposals and product spec sheets for easy retrieval during meetings.
Features:
Reporting and analytics

Forecasting

Integrations

Geolocation

Offline access
How to choose the best mobile CRM system?
Choosing the best mobile CRM system for your business isn't about finding the app with the most features or the most downloads. Ask yourself the following critical questions about your unique business model to help you find a product that best suits your needs:
Are field reps (outside sales) part of your business?

Which CRM best practices are you currently using? Is there a way these practices could be taken on the road?

How are your field reps currently navigating to their meetings?

How often do your outside sales reps travel in places without reliable service?

How many employees do you currently have?

How much data do your reps work with on a daily basis?

Do you see your outside sales needs changing within the next 3-5 years?

What is the difference between ERP vs CRM, and should you consider investing in both?
Keep in mind that whichever mobile sales CRM app you choose, it should be scalable to the growth you're planning. There's little point in having your team learn to use one system now if that app can't handle the volume you're expecting to take on within the next few years. You should also consider the training and support options available from app vendors. In case you think your team may appreciate having a smoother learning experience.
Frequently asked questions
Most of the leading mobile sales CRM providers require an iOS or Android device to operate their mobile CRM platform. Check the Apple Store or Google Play store to see which version of each operating system your employees would need in order to use their applications.
Frequently asked questions
Most of the leading mobile sales CRM providers require an iOS or Android device to operate their mobile CRM platform. Check the Apple Store or Google Play store to see which version of each operating system your employees would need in order to use their applications.
Try an industry-leading mobile CRM system for free
Join the ranks of thousands of companies that use Zendesk Sell to drive efficiencies, boost rep productivity, and optimize the buying experience.
Sign up today and test drive a game-changing mobile sales experience.
Keep exploring the mobile CRM world: