Best WordPress Chatbots For Your Website
Empower your customers to help themselves with AI-powered WordPress chatbots.
A full guide to WordPress Chatbot
Last updated November 21, 2023
No matter how strong your website is, visitors will likely still have questions about your product or service. Rather than dig through your site for an answer, many people prefer to simply ask their question and have an answer delivered to them. But you can't devote an employee's entire schedule to sitting around waiting for visitors' inquiries. That's where chatbots come in.
In this guide, we'll go over some common questions about the most popular WordPress chatbots. By the end of this article, you should be armed with enough information to help you choose the best WordPress chatbot for your business.
What is a chatbot for WordPress?
A chatbot is a software tool that uses artificial intelligence to simulate human conversation with website visitors. It's a useful alternative to live chat, which can be costly and sometimes not very time efficient for some businesses. That's because a chatbot can carry on multiple conversations at once, whereas a person trying to answer a dozen questions simultaneously would quickly become overwhelmed.
Open-source website builder WordPress offers a wide range of its own chatbot plugins, as well as third-party options. This handy tool can be used for any kind of business using a WordPress website. But they're not just for answering questions. There are now multitudes of WordPress chatbot plugins designed to connect with different channels and perform different functions—from generating leads, to collecting valuable customer data.
Chatbots are used in, but not limited to, the following industries:
eCommerce

Healthcare

Customer service

Travel & tourism

Banking & finance

Food services & grocery stores
What are the benefits of using a WordPress chatbot?
WordPress chatbots are relatively inexpensive and easy to use. With very minimal effort, even small businesses can use them to reap huge benefits.
Build stronger customer relationships



Customers visiting your site want a fast, efficient buying process. But they don't always know what they're looking for or where to find it. WP chatbots act as a personal shopping assistant to guide visitors through the buying experience. Using human-like conversational tactics, they help customers find the product they're looking for, let them know about promotional discounts, and even authorize payments and track orders. Customers appreciate a fast, easy buying experience, which results in strong customer relationships.

Reduce costs on customer service



Sometimes all customers need is a simple answer or two to motivate them to buy. But if they can't get those answers fast, they may decide to look elsewhere. Remember: when someone is shopping online, it only takes a click or two for them to move on to the competition. But if a service rep were constantly standing by to answer questions, the cost of that customer service option would add up quickly. Chatbots, on the other hand, are relatively cheap to install and operate. And they don't take coffee breaks or vacations.

Effortless data collection



Even if a visitor isn't ready to buy, they can still interact with your chatbot and drop valuable information about their purchasing habits. This might look like contact details, demographic information, or product preferences. You can store and analyze this data to gather further insight into the kinds of people who are visiting your site and what they're looking for.

Boost subscriber numbers



Chatbots can also collect emails from site visitors by asking if they'd like to be included on your newsletter or email updates. Even if they don't make a purchase, you can continue reaching out to them, ensuring that they won't forget their initial interest in you.

Cut down on cart abandonment



In a store, people don't wait in line just to drop items at the counter and forget about them. But that's exactly what people do when shopping online. They'll put items in their cart, then leave your site. Cart abandonment is a common problem in eCommerce, and chatbots are a super useful tool in mitigating the problem. After a cart is abandoned, chatbots will reach out to customers and remind them that their desired product is still waiting for them. It's a gentle reminder that doesn't cross the line into being pushy, but still results in high click-through rates.
What are the features of WordPress chatbot?
At its most basic, a WordPress chatbot can answer questions and carry on conversations about products with website visitors. But as more people begin using chatbots, their capabilities and features are expanding.
Here are some of the features you'll find included with chatbot plugins:
Machine learning: Using natural language processing—or NLP—chatbots learn how to converse in a natural way based on input, so customers don't feel like they're talking to a robot.

Carousels/cards: Add images, titles, and description to the conversation to better lead the customer to what they want. You can also add buttons that will direct the customer to another page.

Conversation templates: Create personalized messaging specific to your industry using templates, so you don't have to build conversations from the ground up.

Appointment booking: Visitors to your site can book appointments with someone from your company without any back-and-forth conversations about your availability.

Mobile access: Users can engage in conversation with your chatbot from their mobile device, so they can get their needs met even when they're on the go.

Third party integrations: Connect your WordPress chatbot with your other business apps or social media channels so you can make better use of all the data you gather.

API: Integrate your chatbot with your customer service program and other solutions, so you can manage your chatbot conversations at scale and provide smooth bot-to-human handoff.

AI: Prevent long wait times with Artificial Intelligences that can instantly qualify requests, create tickets, and determine which channel of support to direct the conversation to.

Bot-to-human handover: Offer customers a seamless transfer from bot to a human support agent, either by phone or live chat.

Omnichannel support: Deploy your chatbot across every communication medium your company currently uses, including your website, social media platforms, mobile apps, and WhatsApp.
How do you make a WordPress chatbot?
Just as you were extremely intentional when determining the look and design of your website, you'll also need to configure your chatbot to fit your brand. In a way, a chatbot is another "face" of your company, much like a retail sales associate who approaches a customer in the store to ask, "Can I help you find anything?" Those sales associates are trained to speak and behave in a certain way; a chatbot is no different. You'll want to train your chatbot to approach customers with language that fits your brand and communicates seamlessly with your target audience.
Every chatbot plugin will vary in terms of configuration, but as you design your chatbot to reinforce your brand, think about the following steps:
Identify your chatbot's purpose



Before choosing what your WordPress chatbot should say, you need to decide what its primary purpose is. To do this, open a discussion with your team members to determine exactly how your chatbot should be used.

For instance, you may discover that your customer service agents are constantly fielding the same questions over and over again. If so, you may need a chatbot for customer support to take over answering those questions. Does your sales team want more leads coming from website traffic? Then you might need a chatbot for generating leads. If your business or service involves scheduling appointments, maybe you need a chatbot for setting appointments and reminders. The job of the chatbot is entirely dependent upon your product or service.

Give your chatbot a name



Choose a name that will fit your brand and resonate with your target audience. Remember that your chatbot will be the "face" of your online presence, which means it isn't about selecting what you personally like—it's about finding a name that will instill trust with your target customer.

Decide on a voice for your chatbot



Much like a Hollywood scriptwriter will give their characters a unique manner of speaking, your chatbot can have a distinct voice. The tone of your chatbot's voice depends on your business. A chatbot for a law firm, for instance, probably shouldn't be too casual or humorous. A chatbot for a tattoo parlor, on the other hand, probably has more freedom to sound laid back. Whatever voice you decide on, remember that your chatbot's purpose is to communicate clearly and succinctly. It isn't there to entertain, even if your business is providing birthday clown services.

Create a script



Giving your customers a positive chatbot experience is all about speed and clarity. Visitors will engage with your chatbot because they don't want to sift through information, even if that information is only a click away on another page. Chatbot responses should be short and to the point.

Your script should include dialogue for greeting, asking questions, clarifying, providing information, apologizing, suggesting solutions, and concluding the conversation. Some plugins will also allow you to insert images and gifs to further personalize the interaction.

Test it out



Perform a test run of your chatbot by roleplaying as a visitor to your website. Try out different personalities that you've come across in your experience with customers. Keep in mind, not all customers will be patient or polite. Your chatbot will have to interact with all sorts of people. As you roleplay, you might come across dead ends or runarounds that you'll have to fix.
How much does it cost to build a chatbot?
WP chatbot pricing depends on several factors, including number of users, websites, languages, and features. Some plugins require an initial fee for building your chatbot. Others will include a monthly or yearly subscription payment ranging anywhere from $9 a month to $300.
Small businesses with relatively low website traffic can find free chatbot plugins, while users with many websites and higher traffic typically go for the more expensive plans with more features.
​​How do I add a chatbot to WordPress?
Adding a chatbot to your WordPress website is fast and easy. Once you've decided on a specific chatbot plugin, follow these steps to have it up and running in no time:
On your WordPress Dashboard, go to the tab labeled "Plugins".

On the page that pops up, click on "Add New" button.

A search bar tool will appear. Type in your desired chatbot plugin. For instance, "WP Chatbot", or "Collect.chat".

Your desired plugin should appear. Click on "Install Now" to continue.

After the plugin is installed, you'll need to activate it. Do this by clicking on the "Activate" button.

From here you'll just have to create an account. The setup of your account will vary depending on which WordPress chatbot plugin you've selected.
What is the best WordPress chatbot?
Zendesk

Tidio

Smartsupp

HubSpot

Gobot
Acobot AI chabot

WP-Chatbot for Messenger by MobileMonkey

Chatbot with IBM Watson

Website Chatbot by Collect.chat

Chatra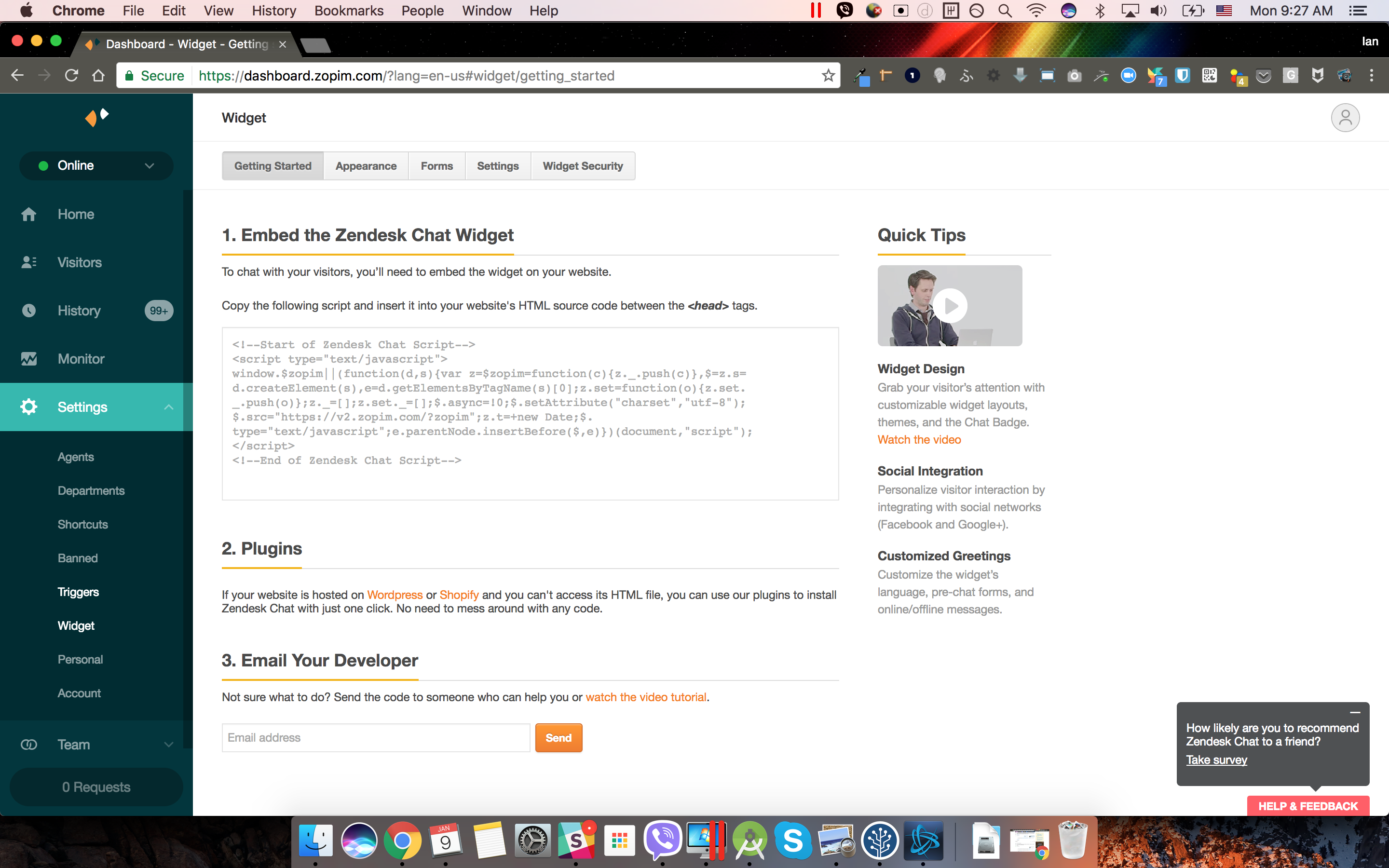 Zendesk Suite is a complete customer care software solution. Its AI-powered chatbot, Answer bot, uses a deep learning model to seamlessly gather all the context it needs to troubleshoot problems and route tickets to the best qualified support representative. Scalable to serve businesses of any size and with multi-lingual support, Answer bot continues learning after deployment, independently training itself to deliver even more personalized interactions in the future.
Streamlining self-service is made simple with Zendesk's scalable and flexible APIs, so you can easily connect with clients and pull customer data fast. And with Zendesk's flexible chatbot system, your customers can get instant assistance over their favorite communication channels, including Facebook and WhatsApp. Stellar customer support is made easy with the user-friendly and conversation-focused interface and seamless installation.
Mobile access

Integrations

NLP technology

Customizations

Templates
Free trial: yes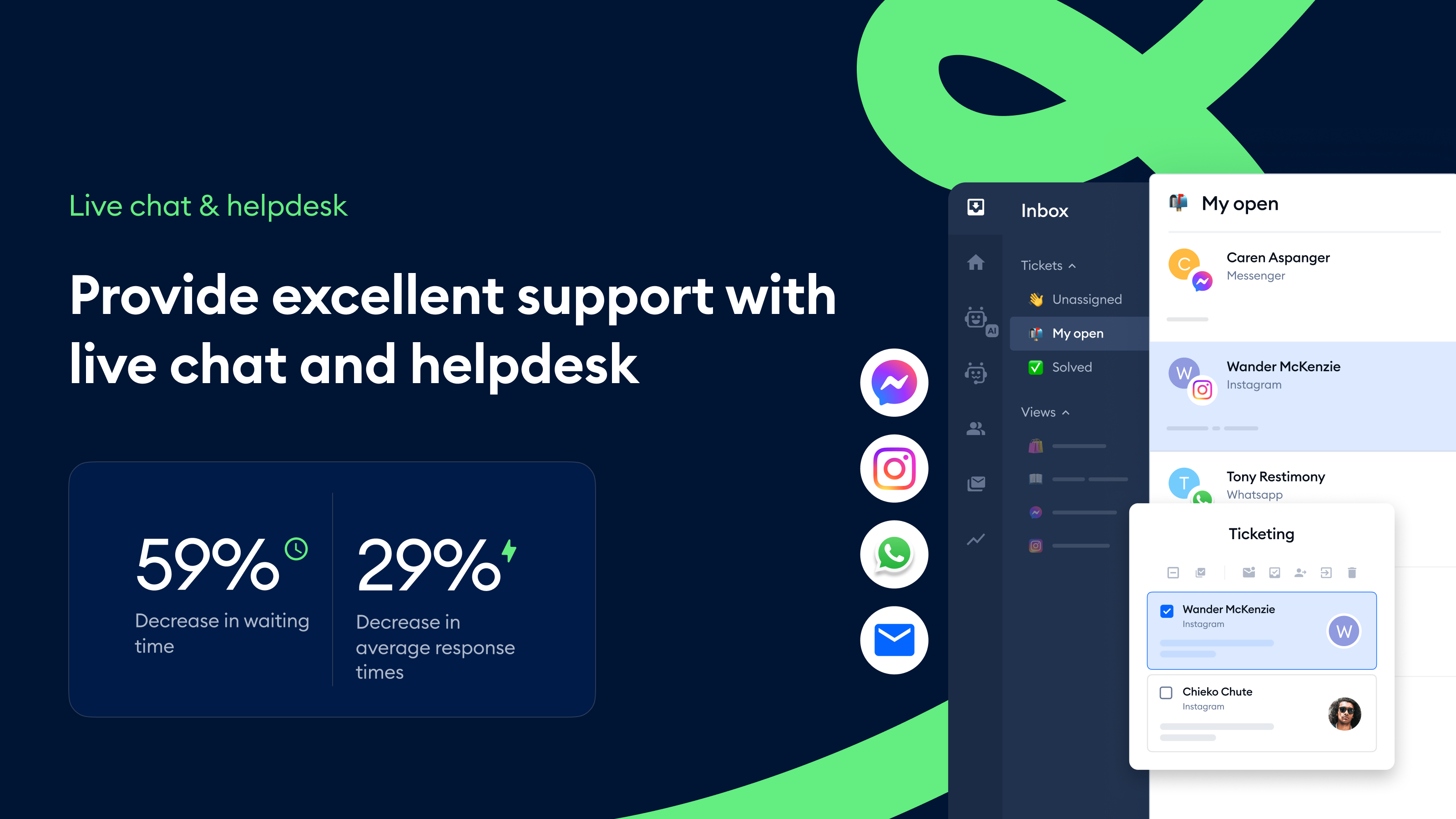 Tidio is a free WordPress chatbot plugin that has over a dozen templates for recovering abandoned carts, offering discounts and promotions, and collecting leads. Or, for those who prefer to create their own conversations, Tidio has a drag-and-drop visual editor that allows users to create conversations from scratch.
Automated conversations let you collect emails, track customer engagement, add tags, and send information directly to your CRM.
Tidio's chatbot feature is part of its larger customer service suite, which also includes live chat and email integrations.
Features
Customizable widget

Mobile access

Visual editor

20+ integrations

NLP technology
Free version: yes
Free trial: 7 days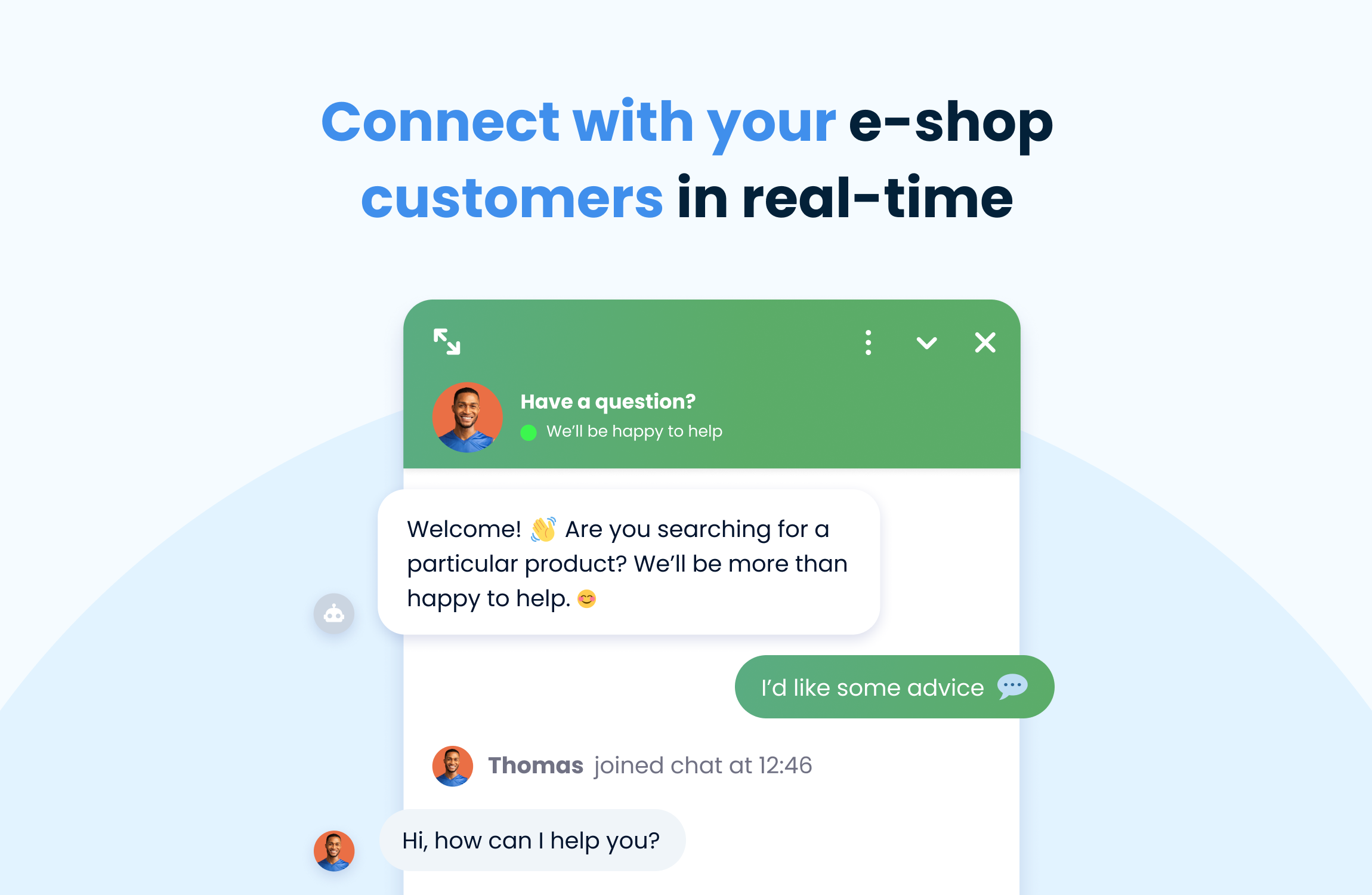 Smartsupp has a free WordPress chatbot that acts as a personal shopping assistant that combines chatbots with live chats and video recording. With functions to see who's browsing your online store, you can see who's interested in which products and initiate conversations to kick off the buying process.
"Smarty," Smartsupp's chatbot is widely used in Europe and supports conversation in seven different languages. It has three present automatic messages for greeting new customers, returning customers, and alerting visitors that they're currently busy. Its conversation capabilities allow visitors to select products, place orders, and offer discounts on future purchases.
Features
Mobile access

GDPR compliant

Proactive chat

Third party integrations
Free version: yes
Free trial: yes
Like Zendesk, HubSpot is a sales and CRM platform offering a whole suite of customer service features, including a chatbot. HubSpot's AI chat feature allows for customization to make your widget fit with the look and feel of your website. Users can also customize conversations to match different pages across their platform.
In HubSpot, conversations are automatically saved and logged in the conversation inbox and timeline, so your team can view how conversations were carried out. Chatbots can also be used to book appointments and meetings, answer support questions, and qualify leads.
Features
Mobile access

Appointment scheduling

Lead qualification

Universal inbox

Third party integrations
Free version: yes
Free trial: yes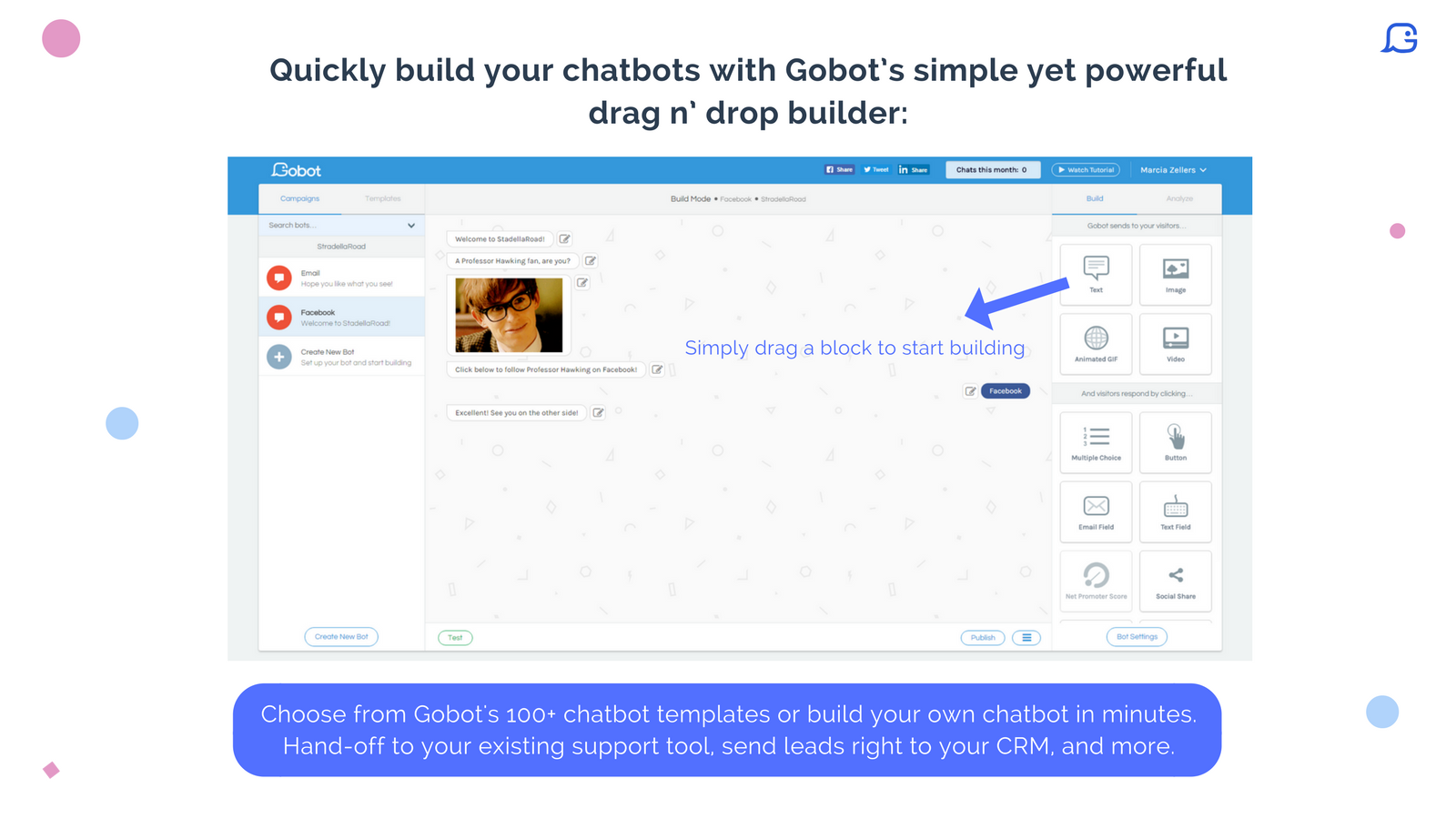 This chatbot lets users automatically generate qualified leads, help customers find the best product for their needs, and answer customer inquiries. It also has features for collecting customer feedback and scheduling appointments.
Gobot allows online store companies to collect data in real time so they can build personalized messaging and intelligent follow-up questions. Customization features let you add your company logo, match color palettes, and manually set the widget position on your page. Additionally, its segmentation feature lets companies separate their users into groups for targeted email campaigns based on the exact pages they visited on the site.
Features
100+ templates

Drag-and-drop builder

Segmentation

Polls

Social buttons

Analytics
Free version: yes
Free trial: yes
Acobot is a virtual shopping assistant designed for WooCommerce online retailers. It lets users search for products by name, tag, and category, and discover coupons. Acobot also has generation features and follow-up tools.
When a cart is abandoned, Acobot will automatically send an email to nudge the customer back to your site to complete the purchase. It also features a rewards program and discount coupons to motivate buyers to continue returning to the product. Users can customize the appearance of their widget, but at this time, can't customize language or dialog flow.
Features
Machine learning

Code-free development

Navigation

Lead generation
Free version: no
Free trial: yes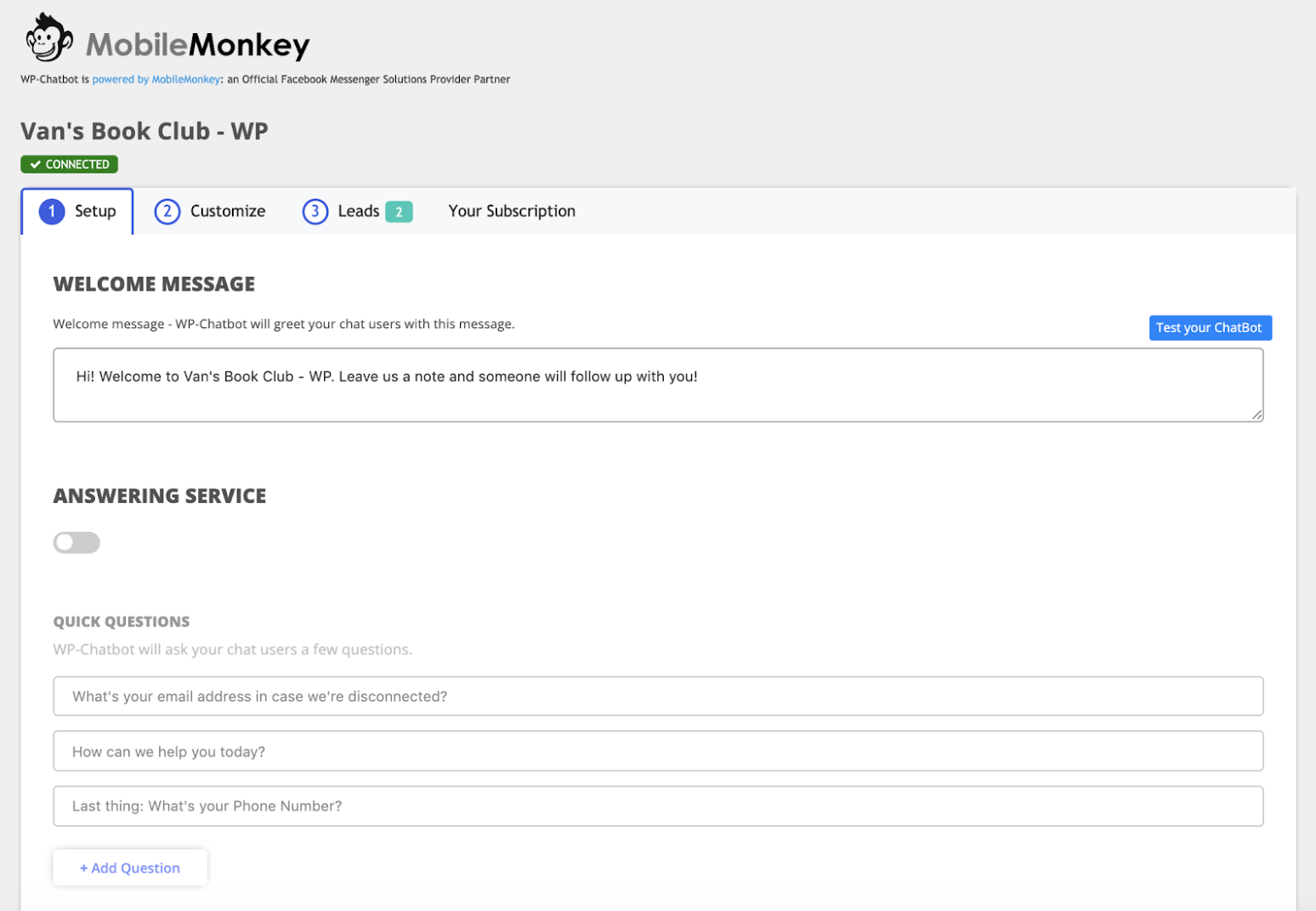 WP-Chatbot for Messenger is fully integratable with a business' Facebook page. Users can hold conversations over Facebook messenger or the company's website widget. The OmniChat™ feature by MobileMonkey allows for chatbot conversations across multiple messaging platforms, and lets users add live chat functions to their website.
The single unified inbox can be used to view all conversations from one place. Site owners have access to chat history, allowing them to pull valuable customer data for marketing and sales research. Also, its customization features let users create hyper-personalized interfaces, allowing creators to select shape, location, and color.
Features
10,000+ integrations

Widget

Unified inbox

Templates

NLP technology
Free version: yes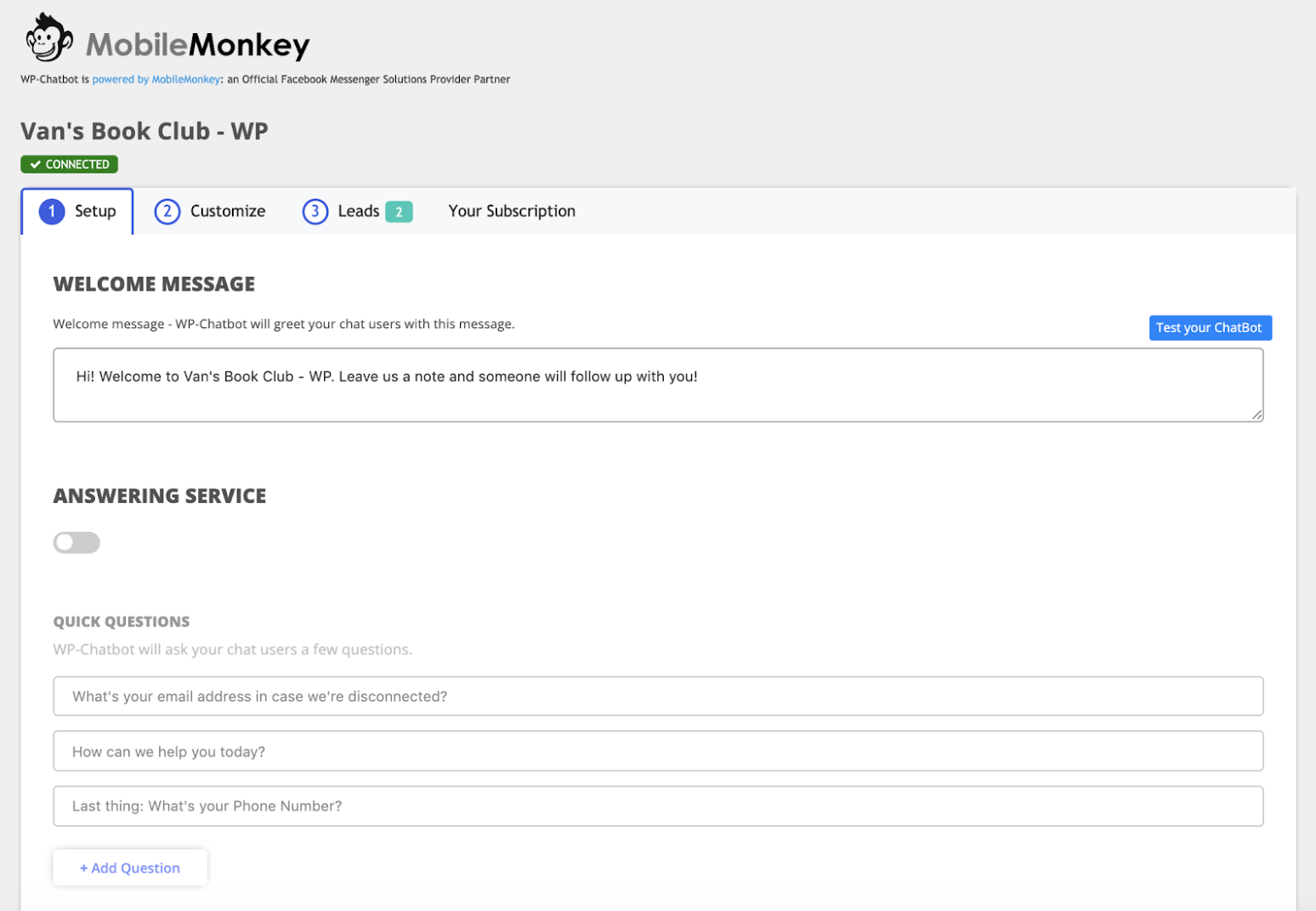 Formerly known as Watson Conversation, you can access this chatbot plugin by signing up for a free IBM Cloud Lite account. Its rich response feature lets users add images and clickable responses to your chatbot, and VOIP calling lets customers contact a real person directly from the chatbot if they want live support.
Watson handles complex customer needs, meaning there are fewer instances of customers coming across error messages or clarifying responses.
Features
Advanced AI

Rich response

VOIP calling powered by Twilio

Customization

Simple plugin setup
Free version: free with IBM Cloud Lite
Free trial: yes
Learn more about Watson Assistant for Zendesk
This free WordPress chatbot engages visitors in conversations to grow email lists, generate and qualify leads, and set appointments. It also features an interactive FAQ feature for educating customers on products and services.
The AI conversational system can be used as a contact bot, a survey bot, a feedback bot, and more. Its machine learning capability makes it easy to steer conversations based on user interactions and feed data into your email campaigns and marketing programs. Create support tickets, send data to Google Sheets or your CRM, and set up email notifications.
Features
Appointment setting

Third party integrations

Surveys

Lead generation
Free version: yes
Free trial: no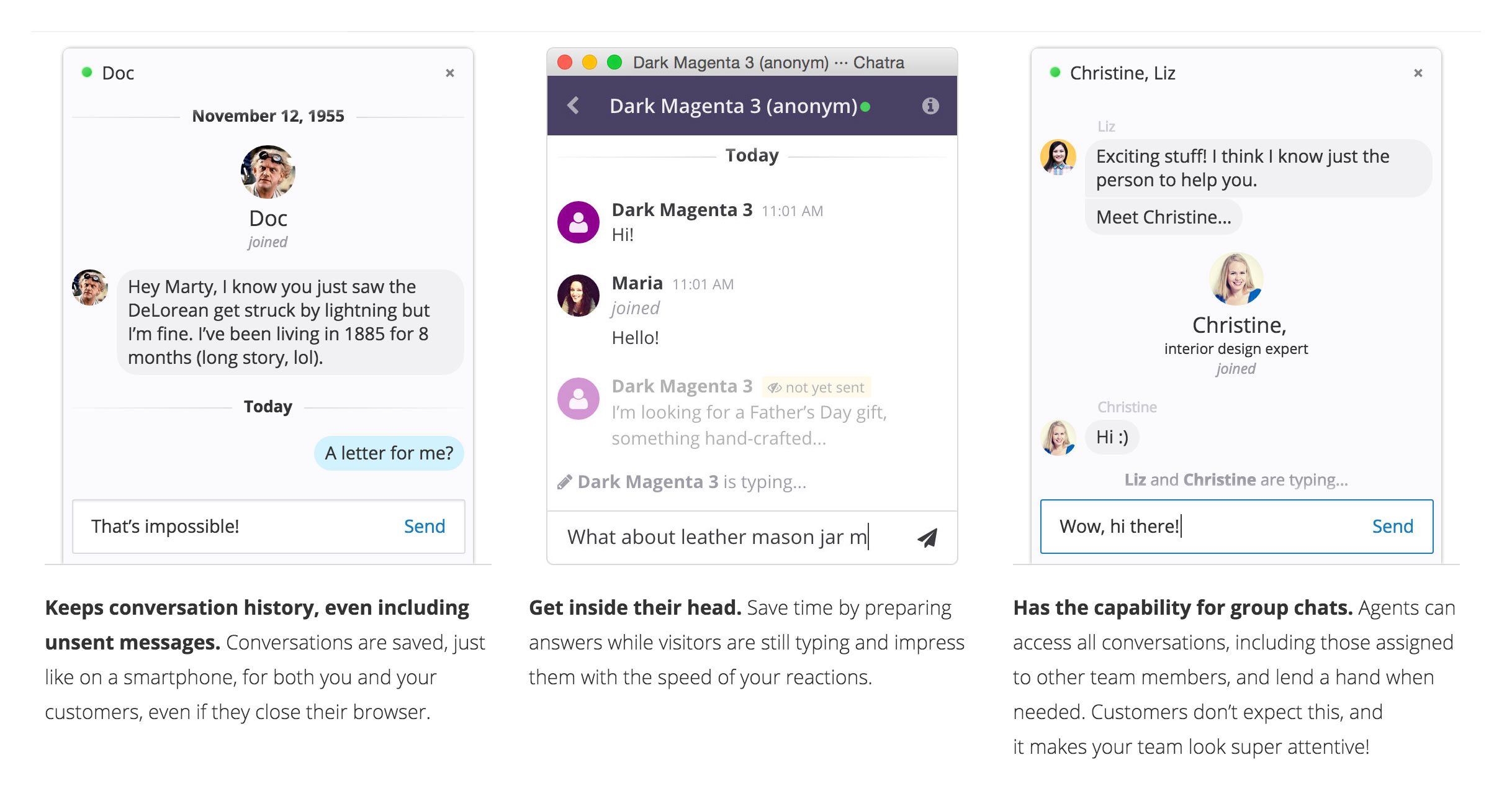 Chatra is a multichannel marketing tool featuring a chatbot, as well as live chat and help desk features. It's exit-intent messages aim to prevent visitors from leaving, so they can help businesses convert more sales. It also includes conversation history storage for holding into important customer information.
Users can communicate with customers over their preferred channel, including Facebook, email, and Instagram. They can also monitor website visits and create real-time lists to see who's currently browsing their online store.
Features
FAQ support

Templates

Lead generation

Third party integrations
Free version: yes
Free trial: yes
Summary of the top 10 WordPress chatbot plugins
| | Live chat | Vendor 24/7 live rep support | Android | iPhone | Free trial length |
| --- | --- | --- | --- | --- | --- |
| Zendesk | ✓ | ✓ | ✓ | ✓ | 14 days |
| Tidio | ✓ | ✓ | ✓ | ✓ | 7 days |
| Smartsupp | ✓ | X | ✓ | ✓ | Info not provided by vendor |
| HubSpot | ✓ | X | ✓ | ✓ | 14 days |
| Gobot | X | X | X | X | Info not provided by vendor |
| Acobot | ✓ | X | X | X | 15 days |
| MobileMonkey WP Chatbot | ✓ | Info not provided by vendor | ✓ | ✓ | Info not provided by vendor |
| Watson IBM Cloud | X | X | ✓ | ✓ | Info not provided by vendor |
| Collect.chat | X | ✓ | X | X | Info not provided by vendor |
How to choose the right WordPress chatbot?
Your business is unique, so you need to be deliberate in the chatbot you use. Here are some points to consider when trying to decide which AI conversation bot is best for your website:
Who is your target audience?

What platform do you plan to use your chatbot on?

What kind of tasks do you want your chatbot to perform?

Do you want your chatbot to be able to pass customers to a live chat function?

What is your ideal response timing for connecting with customers?

What problems are you currently facing with regards to customer support?
Frequently asked questions
Ready to try a WordPress chatbot for your website?
Zendesk's intelligent chatbot allows for seamless conversation and customer interaction. The click-to-build bot creator allows for visual customization, empowering users to create the perfect widget to match their brand, even without coding skills.
We have more to say about this.
Keep exploring the world of chatbots.