What is enterprise CRM software? Guide + reviews.
Enterprise CRM lets your large business operate smoothly and more efficiently than ever.
A guide to the best enterprise CRM software
Last updated May 11, 2023
Customer relationship management—or CRM—is a powerful software platform that businesses use to boost profits and increase productivity. Using CRM's multitude of sales tools, businesses can plan for sustainable growth while ensuring a seamless customer journey. But when it comes to purchasing a software platform for your business, the wealth of options can quickly become confusing.
In this guide, we'll provide a comprehensive enterprise CRM definition, and discuss what makes it different from standard CRM software. We'll also review some of the best customer relationship management solutions currently on the market for large businesses. Then we'll outline an approach for choosing the best fit for your business.
What is enterprise CRM?
Enterprise CRM is customer relationship management software for large businesses that have multiple departments or a complex CRM process. It's designed to help businesses manage large volumes of clients, collaborate seamlessly across teams, and gather profitable insights about customer behaviour. Many businesses also use CRM for selling and activating tracking, so they can gradually refine their sales methods and hit even higher targets.
Standard CRM and enterprise CRM are similar in their objective, which is to provide businesses with tools for building strong and lasting customer relationships. Systems for enterprise businesses, however, tend to have features that small businesses simply don't need.
Does everyone need enterprise CRM software?
Every business, no matter what size, should operate with some kind of contact management system. Your customers are the lifeblood of your business, after all. You need an organised way of interacting with them to ensure that they continue to purchase from you and not the competition.
At the same time, small and medium-size businesses (SMB) probably don't need an enterprise CRM solution. The best CRMs for small businesses are outfitted with only essential features. So that SMBs can get all the benefits of using CRM without paying for features they have no need for.
Enterprise CRM platforms, on the other hand, are packed with dynamic features for managing tasks and sales processes across departments. Even the largest companies can operate smoothly. Without a powerful CRM to store, analyse, and access customer data, many businesses would find themselves unable to handle a large enough volume of clients to sustain growth.
What makes good enterprise CRM software?
The best CRM solutions for enterprise orgs provide tools that allow customer-facing teams to perform at maximum efficiency. These tools help streamline daily workflows, so that anyone in your company who interacts with customers can provide a positive buying experience.
Enterprise customer relationship management also provides a 360-degree customer view. This allows businesses to create personalized and insightful interactions, which strengthens the customer relationships. It does this with these key features:
Contact management: Organise, segment, store, and access all of your customer data in one centralised location. Include emails, websites, social media handles, and any other relevant information so you can stay on top of identifying and targeting specific customers.

Lead management: Identify the leads who are most likely to buy and keep them moving through your pipeline. Segment them by type, score leads automatically, assign them to the proper salespeople, then nurture them as they move closer to purchasing.

Sales reporting & analytics: Track sales metrics and activities so you have a full picture of how efficient your sales process currently is. Display critical metrics on your dashboard, and automatically create CRM reports to see where further improvement is needed in your process.

Sales forecasting: Use historical and current sales data to create accurate predictions of future sales. Compare your forecasts to actual sales numbers, and discover where the process can be fine-tuned to make sure that forecasts can be met.

Mobile access: Take your CRM on the road, even where there is no service. Most providers have mobile apps that can be used on iOS and Android devices. That allows teams to operate with their CRM data even when they're away from their desks.

Sales automation: Automate repetitive tasks like emailing, generating reports, scoring leads, and scheduling. Sales automation tools save enormous amounts of time by delegating work to the software, reducing opportunities for human error and tightening the sales cycle.

Integrations: Connect with the other business apps you're currently using, including your email tools. Enterprise CRM solutions typically offer hundreds or thousands of native and third-party integrations, allowing for seamless transition between apps.

Collaboration tools: Share documents and data across teams so that everyone is working with the most up-to-date and relevant information. Notify colleagues instantly with updates, share data from a centralised location, and collaborate across teams without flooding inboxes with emails.
What are the benefits of enterprise CRM systems?
Using a robust CRM solution can greatly enhance productivity and efficiency. It does this by providing the following seven key benefits:
Improved communication

Poor communication can lead to tasks left undone, or done twice. This drags the sales process out, making it longer and more frustrating than it needs to be. It can also create a confusing experience for customers. Those who find themselves getting different answers from different representatives every time they interact with your business.

CRM provides tools for standardising methods of communication, so that nothing falls through the cracks. Team members can share relevant data, track each others' activities, and speak to customers with a unified brand voice. This ensures a faster and less error-prone sales process, as well as a greater sense of trust from customers.

A more positive customer journey

With all of your customer data centralised in one spot, teams don't have to dig through spreadsheets looking for key customer data points. CRM software provides teams with the tools to instantly pull up accounts and profiles. That lets them to follow through on commitments faster, respond quickly to outreaches, and make important notes that others will have access to. In this way, teams can create a more error-free and seamless buying journey that turns new customers into returning ones.

Detailed customer insights

Customers today have no shortage of resources when it comes to learning about your business. They can check out your site or online store, read user reviews, and browse your social media pages. CRM does the same thing, only the other way around - it helps businesses learn more about their customers.

By gathering critical information about demographics, purchasing history, social media activity, and more, CRM lets businesses gain a deeper understanding of their customer base. And when you know what really makes your customers tick, you're in a better position to upsell and cross sell. As well as craft more targeted marketing campaigns.

Greater flexibility

Since the start of the pandemic, businesses have had to adapt quickly. One of the biggest changes was moving teams to remote work, which took them away from their office resources.

Many CRM providers are cloud-based, which means they can be operated from anywhere. Whether working hybrid or fully remote, teams using CRM can access their customer data from wherever business takes them.

Full visibility

One of the key benefits of using CRM is its ability to offer full visibility into your sales process. You can easily create reports that show you exactly where your efforts are being spent. And what kind of results they're generating.

If you know that something in your process isn't working, you can't change it until you know what it is. CRM allows users to see where the cracks are-not only so you can go in and fix it. But so that you can avoid creating similar ones in the future.

Increased sales

All of these benefits add up to the ultimate goal - closing more sales. Providing customers with a positive buying experience helps ensure that they continue to purchase from you. Because even one bad experience can be enough to turn a potential customer off from your business forever.

With a firm grasp of customer retention, you can put more effort into generating more leads and handling a greater volume of contacts in your pipeline. Plus, with greater customer insight, you can cross-sell and upsell products or services that are most relevant to their interests.
What is the best enterprise CRM?
Here's a list of the top 15 available today. And for a quick overview of their features.
Zendesk is on a mission to keep CRM (for both enterprise and SMB sales orgs) as simple and effective as possible—and it shows in their clean and easily navigated interface. The customisable dashboard allows users to access and share critical customer data from across all departments in one central location. That keeps communication and collaboration between teams in a larger business simple and fast.
As a bonus, this platform is notoriously simple to get up and running in 7 days or less.
Features:
CRM dashboard

Mobile app

Contact management software

Lead generation

Sales forecasting

Calendar/Reminder system

Collaboration tools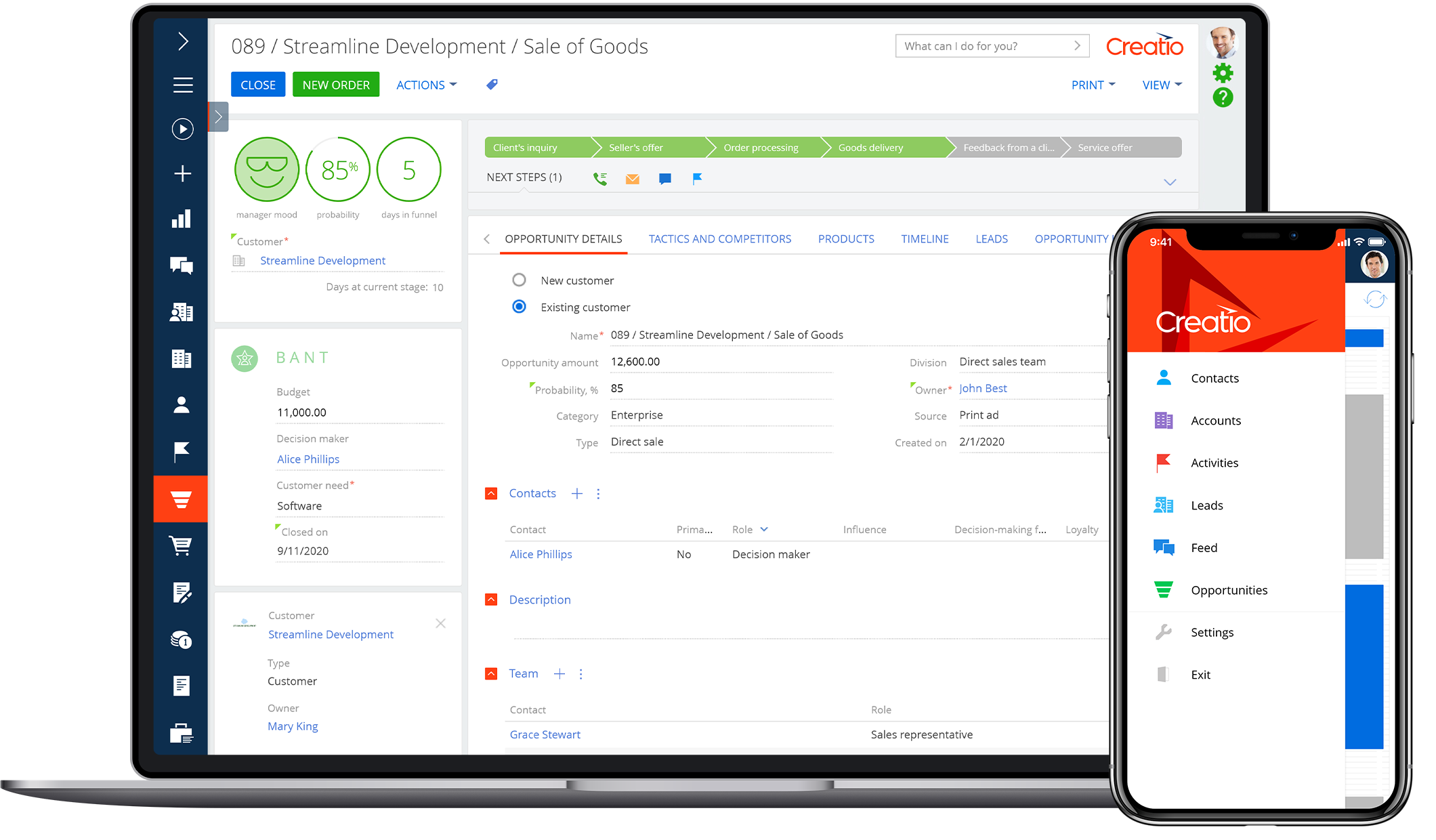 Creatio offers a no-code platform, which allows users to automate their workflows without advanced IT skills. CRM tools, industry workflows, and templates and connectors are housed together under one platform, for central access to all business and consumer-related data.
Creatio uses AI to obtain the most current customer information, and creates a Customer360 profile for each contact. Larger businesses can also opt for the chatbot feature, which allows 24/7 communication in any language, and provides answers to common questions.
Features:
Lead management

Customer database

Knowledge base

Sales forecasting

Mobile access
Sugar offers Sugar Enterprise, a CRM platform fitted with specific features for larger businesses. This platform offers the usual CRM tools, but also uses automated SLA (service-level agreement) management to move high priority cases to the top of agents' case queues.
All current customer and case information converge within a central service console, allowing agents to pull up information across all channels. Plus, SugarCRM offers SQL-based reporting that automatically builds reports, graphs, and more based on collected data.
Features:
SQL-based reporting

Advanced workflow with SugarBPM

Accelerated support SLAs

Support via phone and SugarCRM Support Portal

4 Support-authorised contacts
Salesforce brings together business apps like Slack, Einstein AI, and Trailhead for their Customer360 CRM platform. The more apps the user combines, the more customer data they collect. Customer360 combines data from each app into a central location meant to provide a snapshot of each consumer.
AI-powered predictions, recommendations, and chatbots aim to streamline customer services for users working with a large customer base. Salseforce also offers customer self-service options, supplemented with personalisation tools.
Features:
Business app integration

Sales pipeline management

Collaboration tools

Contact database

Lead management

AI-powered workflows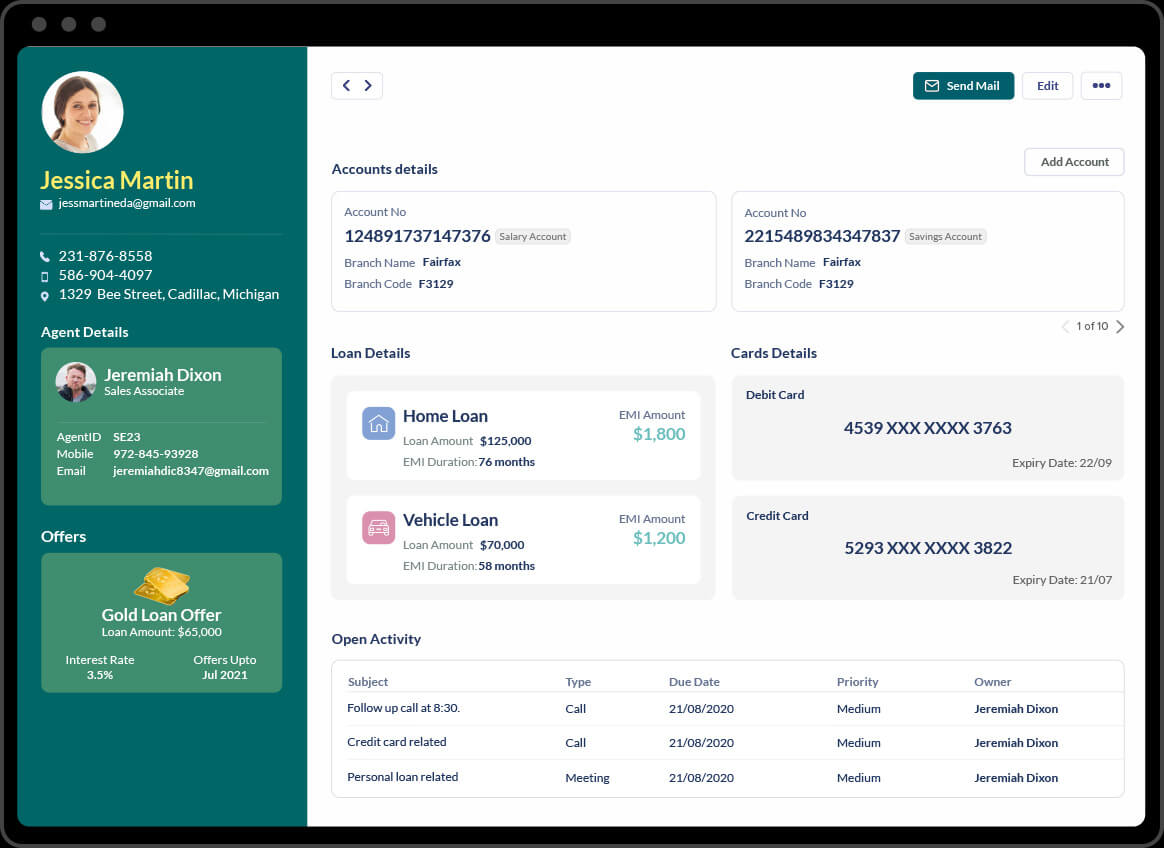 Zoho offers a package specifically tailored to larger businesses. Their CRM platform allows the user to build a specific customer journey, and nudge consumers through their lifecycle.
Zoho uses sales force automation with AI technology to gather as much data as possible about consumers and potential leads. This technology allows the user to track and manage customer lifecycles, and sales activity. Zoho also offers guided selling, where data collected by AI technology is used to make recommendations for individual leads.
Features:
Lead nurturing

Goal management

Forecasting

Guided selling

Multichannel marketing
EngageBay offers a "Pro" CRM platform for enterprise businesses. The free version of the platform for individuals or smaller businesses, includes traditional CRM features like targeted marketing, data gathering, and deals pipeline visualisation.
The enterprise option expands on these features and adds customised reporting, SSO, and a dedicated account manager. Marketing automation tools, such as email sequencing, allow for quick follow ups with large volumes of customers and potential leads.
Features:
Customer database

Appointment scheduling software

Emailing sequence tools

Live chat

Help desk

Landing pages/web forms
Hubspot combines marketing, sales, and customer data into one central location. The software allows the user to track customer data alongside customer service rep performance.
One popular feature of Hubspot's enterprise package is custom objects to store specific company information. It also includes predictive lead scoring, which allows users to identify leads with the most potential to become customers. Users also appreciate HubSpot's playbooks for automating recurring and tedious tasks.
Features:
Custom objects

Predictive lead scoring

Playbooks

Lead generation

Marketing automation

Customer feedback tools
Salesmate is an intelligent sales CRM that promises to help sales teams focus their efforts where they're most profitable. Salesmate's platform allows users to customise their sales pipeline to their unique methods. Users can add automated tasks, create multiple consumer paths, and see the "health status" of deals as consumers move along the pipeline.
Larger businesses may utilise the Smart Emails feature, which allows the user to personalise and automate email blasts and track correspondence. Salesmate also includes a mobile CRM option to access information and engage with customers on the go.
Features:
Mobile access

Marketing automation

Activity tracking

Sales forecasting

Customisable sales pipeline
Salesflare is used mostly by SMBs, but it's starting to sneak into the enterprise market. It helps businesses gather data on the timing of when customers open emails, visit the user's site, and even track how long they stay. Salesflare allows larger businesses to create custom dashboards, as well as set user permissions on who can access and/or edit which data.
Salesflare's enterprise edition comes with features aimed to make the transition to their software hassle free. They input the user's current data into the programme. Then set the user up with a dedicated account manager and customised employee training on the software.
Features:
Mobile app

User permissions

Personalised email campaigns

Lead generation

Engagement tracking
ActiveCampaign promises a platform that can work with a business' already existing tools. They allow users to view CRM data, such as who has opened an email, within the Gmail app. They also allow you to add client information from the platform into your existing apps.
ActiveCampaign also automates lead prioritisation, so users can identify who is most likely to buy their product, and follow up with those leads first. Additionally, their omni-channel support feature allows users to reach customers over email, text, and WhatsApp.
Features:
Mobile access

Lead management

Campaign planning

Business app integration

Email marketing
Pipedrive creates customised metrics for users to track the company's progress towards goals. Their dashboard allows larger businesses to customise actions according to their CRM needs.
Pipedrive's dashboard includes a visual sales pipeline where reps can enter new consumer information, and drag and drop deals between stages. Pipedrive also allows the user to automate repetitive tasks, and employs AI technology to track consumer data. Users can access Pipedrive from mobile devices, and integrate data from their other apps as well.
Features:
CRM dashboard

Mobile apps

Lead management

Communication tracking

Automated actions
Freshsales is a sales automation software platform. It's designed to help businesses bring in high quality leads and gather AI insights. All to create a unified customer record to support the mass of information stored by a large business. Their "Neo Admin Center" is a centralised control console through which the user can maintain privacy. Along with being able to grant team members access to information and customise their tools.
Freshsales also offers integrations with tools like Slack and Microsoft Teams, to make collaboration with a large team possible.
Features:
Unified customer record

App integration

Collaboration tools

Customised analytics

Neo admin center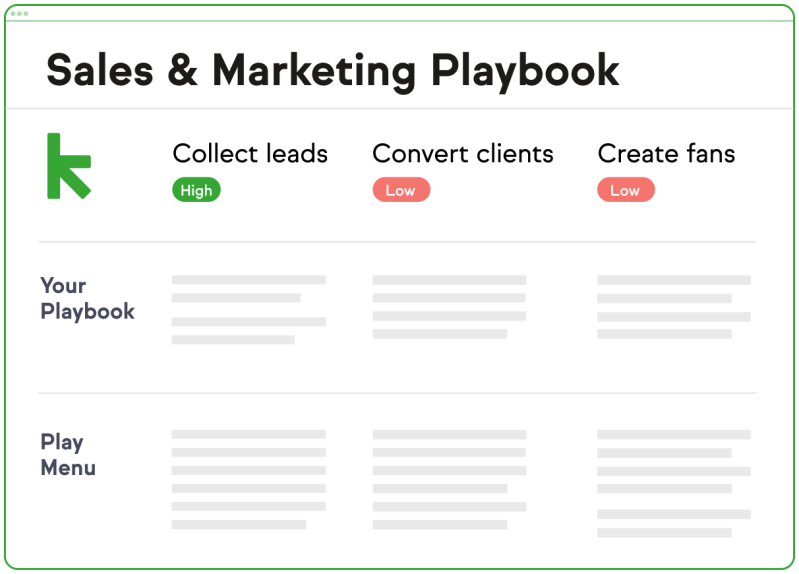 Keap offers a dashboard with basic tools like contact lists and automated emails. Keap's automated lead capture collects and organises contacts from forms, social media, and landing pages. Keap is also accessible in the form of a mobile app.
Keap's "Max" plan is built for larger businesses and includes basic CRM features plus sales funnels, lead generation, and analytics on who is engaging with the user's site and communications.
Features:
Mobile app

Engagement analytics

Landing pages

Lead capture

1-click upsells

Marketing performance analytics
Pipeliner aims to make data easy to read and understand through its visuals. It is outfitted with a self-guided learning system so employees can get acclimated as they go.
This handy software tool offers graphs, charts, and task notifications on an easy-to-view dashboard. Plus, visual customer relationship maps can show which salespeople have had contact with which customers in the past. This lets businesses to get a fuller view of the customer journey. Pipeliner also offers a long list of native and third party app integrations to ensure smoother workflow between business tools.
Features:
Mobile app

Business app integration

Performance management

Lead generation

Email marketing
Insightly offers different packages depending on business size, but each one includes the very popular lead routing feature. In lead routing, AI technology tracks activity within a marketing campaign, and then traces it to most relevant potential leads. You can also use Insightly to easily send and track emails, setting notifications to let you know when someone has opened an email.
Insightly's enterprise package offers over 250 integrations to business apps. It also allows users to create custom validation rules and page layouts for greater ease of use.
Features:
Workflow automation

Lead routing

Business app integration

Dynamic page layouts

Email marketing
How to choose the right one?
There are several different types of CRM. Before choosing one for your business, do some in-depth research and make a list of your best options. As you do that, keep these tips in mind to make sure you're making the best selection:
Know your size

How big is your sales team? How many territories does your company cover? How many customers do you currently have? These are all questions to consider when looking to choose the best CRM software for your company.

Enterprise CRM solutions designed to handle a lot of work. Still, you should go into the buying process with the specific figures about your company. That way, you don't risk buying a platform that can't actually manage the amount of data you need it to.

Have a strategy

Choosing and implementing a CRM alone isn't going to magically result in more sales. You need to have a plan for what kind of features you need and the goals you want to achieve. Along with a realistic timeline for progress.

If you don't know what a plan for implementing this kind of software looks like, this is a useful list of strategies for CRMs.

Test drive the best options

The only way to know if a platform is really right for you is to actually use it. Many enterprise CRM systems offer free trials, allowing potential users to give it a whirl before purchasing. This is an excellent strategy for making sure you don't commit to something that isn't going to work in the long run.
Frequently asked questions
Ready to take your enterprise to the next level with a CRM?
Zendesk Sell is an all-in-one yet surprisingly simple sales CRM platform used for small and large orgs alike. Its enterprise features are crafted with usability in mind, making it simple to manage large volumes of leads while still providing stellar service.
Test drive CRM software for free with Zendesk Sell's 14-day trial, and get a feel for how easy CRM can be.
We have more information about this. Have a look below.