Native dialer
Auto dialer software
Contacting customers and leads can be time-consuming for your agents. With auto dialer software, teams work smarter, not harder.
A guide to the best auto dialer software
When your business has an exciting promotion or new product line, you need a time-efficient way to let your customers know. Forcing your teams to manually dial every single contact and then listen to hours of droning ringtones isn't exactly cost-effective. And it certainly won't score you any points with your agents.
Automatic dialing software is the solution. But with so many options for auto dialer platforms available in 2021, understanding where to start can be tricky.
In this guide, we'll answer all of your auto phone dialer software questions, including:
What is auto dialer software?
An auto dialer is a software-based system that compiles a list of customer numbers and dials them automatically. It's a simple idea on the surface, but there's actually a lot more going on than just one-click dialing.
Most auto dialer apps on the market today come packed with highly specialized features that can further streamline your sales process, saving precious time and boosting sales.
Who uses auto dialer software?
To put it simply — everyone.
It's not just telemarketers making the calls anymore. Organizations of all sizes — from universities to businesses, religious institutions to nonprofits — have found ways of using auto dialing software to increase sales and customer engagement.
Is auto dialing the same as predictive dialing?
Sometimes you'll see the two phrases used interchangeably — but there is a difference, and it's an important one to know.
As a feature, auto dialing simply refers to a software's ability to place multiple calls in succession. Predictive dialing, however, uses a complex algorithm that routes calls to agents before the current call is completed, reducing the amount of time between interactions.
Think of the auto dial feature like a batter lineup in baseball — it puts all the players in an ordered list, but not much else. A predictive dialer feature, however, allows the batter who's next in the lineup to stand, stretch, and prepare for their chance at the plate.
As you continue your search for automated dialer software, remember this: all calling software will have an auto dialer feature, but they won't all have predictive calling.
What are the benefits of auto dialing software?
Imagine the time it would take to dial all of your customers using a rotary phone. Yikes.
Thankfully, those days are long past. Nowadays, dialing up a contact can be done with the simple click of a button. And sometimes you don't even need to do that much.
Automatic dialers save your agents from circling through repetitive tasks. Auto dialing software lines up and dials calls for your agents — eliminating dead-air periods between calls, and maximizing customer interaction time.
An automatic dialer system will also give you a way to track, store, and analyze valuable customer information. The best also have features of lead management software or a sales tracker. Dialer systems identify and log whether calls were answered, unanswered, or passed onto a voice answering system. When this information is automatically processed and stored, agents don't have to worry that they might be nudging a customer at the wrong time or barking up the wrong tree entirely.
Dialer software can also be used to gain valuable customer insight by letting your agents conduct surveys and polls without lifting a finger. Customer Satisfaction (CSAT) surveys automatically dial customers and let them rate their experience with a few simple strokes on their keypad, giving your agents a better understanding of where they're delivering, and where they might be falling short.
Investing in auto dialer software lets your company expand its reach, build personalized relationships, and maximize agents' use of time. And if you really care about providing excellent customer care, you'll get even more streamlining benefits by selecting an automatic phone dialer that's already integrated with a powerful customer relationship management platform, AKA CRM tools. From there, you can operate all of your customer service needs — including auto dialing — without the hassle of juggling multiple systems.
What are the common features of auto dialing software?
Automatic dialers don't just ring up your contacts one after the other. Most call dialer providers supply more nifty features to ensure your reps can make the most of every call.
In your search for an auto phone dialer that works for your business, you should evaluate whether your business can benefit from the following helpful features:
CRM integration
Not all automated dialer software providers offer CRM integration — which may negate the whole time-saving benefit of having an auto dialer in the first place! Some auto dialer apps can be integrated with CRM systems and CRM processes, but that still means having to learn and navigate two different interfaces. Why deal with that headache if you can have all your customer and sales data neatly consolidated into a sales dashboard?
Choosing an auto dialer provider that's also an expert in customer relationships management software is a smart way of making sure your customer data is organized and processed with maximum efficiency. After all — if anyone knows how customer interactions can be optimized in the sales cycle, it's the folks who make a living out of building customer relationships.
Unproductive number detection
You can't expect your agents to instinctively know when a contact is most likely to answer. Unproductive number detection is like a little assistant that tells your agent to pause and wait to reach out to a particular contact until the moment is right. This feature lets your agents know who to prioritize on the call list without having to manually parse the data themselves.
Time zone management
One of the marvels of the modern world is our connectivity to people across the globe. But with that marvel comes a conundrum — how do you reach out to customers in different timezones?
Manually calculating the best times to call customers across a range of timezones can be a time-consuming nightmare. Time zone management does all the calculations and categorizing for you, ensuring that your agents never have to field calls from sleep-deprived clients who didn't appreciate their 4 a.m. wake up.
Predictive calling
As we mentioned before, predictive calling and auto dialing aren't the same thing. A predictive dialer feature is like a booster to the auto dial, reducing the time between calls by predicting when one call will end, and then setting up the next call to instantly follow.
Even if you see the phrases "auto dialer" and "predictive dialer" used synonymously, keep in mind that not every auto dialer software provider includes a predictive calling feature. It's always best to ask, just to be sure.
Dashboards
When talking to a client, it helps to have their history at your fingertips. Being able to answer questions quickly both decreases call time and allows your reps to gain customer trust and increase satisfaction rates.
Dashboards not only keep all of this information in one handy location, but they're also shareable. When everyone across departments has access to this key slice of the sales pipeline, they can use it to improve their own customer service tactics — no lengthy inter-department emails or jumbled spreadsheets needed. Here's more about href="https://www.zendesk.com/sell/features/sales-pipeline-software/">sales pipeline software.
What are auto dialer trends in 2021?
One current trend in auto dialing is geared towards organizations where quantity is king. Progressive dialing is best for agents who, due to the nature of the organization, don't really need to do a lot of research into a customer's history before handling the call. Inbound calls are simply passed to an agent the moment the previous one ends.
Preview dialer, on the other hand, is a trend aimed at smaller organizations. Sometimes delivering your service or product requires you to have a fuller picture of who your agent is about to talk to. Preview dialer gives agents an opportunity to glance over the details of their next call so they can go in fully informed — or choose to skip it altogether.
Top 10 auto dialer software of 2021
Zendesk Sell




Genesys Cloud




Agile CRM




CloudTalk




Kixie PowerCall



PhoneBurner




DialMyCalls




Aloware




Spitfire Dialers




One Call Now



Whether you're a small organization with only a few agents or an enterprise-size company with hundreds of representatives across multiple time zones, finding the right auto dialer software for your needs is a hefty undertaking. And even a quick internet search reveals an overwhelming truth: there are a lot of auto phone dialer software options out there.
In order to make your job a little easier, we've compiled a list of our contenders for the top 10 auto dialer software of 2021.
Zendesk's powerful auto dialer app integrates seamlessly with its larger family of cloud-based customer relationship programs. Boasting impressive sales call analytics that logs and processes the details of every customer experience, Zendesk offers agents everything they need to deliver excellent and personalized customer care.
Zendesk has a long list of intelligent features, including predictive dialer, IVR/Voice recognition, queue management, real-time chat, and more.
And with a dashboard that's clean and easy on the eye, Zendesk makes all of your valuable customer data accessible from one screen — meaning your agents can find the information they need at a glance.
Pricing Model: per user
Best For: 1-1000+ users
Supported Languages: English, German, Dutch, French, Spanish, Polish, Portuguese
Features
CRM integration (both Enterprise and CRM for small business
IVR/Voice recognition
Predictive dialing
Reporting/analytics
Real-time Chat
Call scripting
Blended call center
Genesys Cloud is a call center platform that connects agents to their customers using email, video, telephone, chat, and social media channels. Used by small to large businesses across a wide range of industries, Genesys Cloud software includes predictive dialing, speech-enabled IVR, and AI-powered chatbots.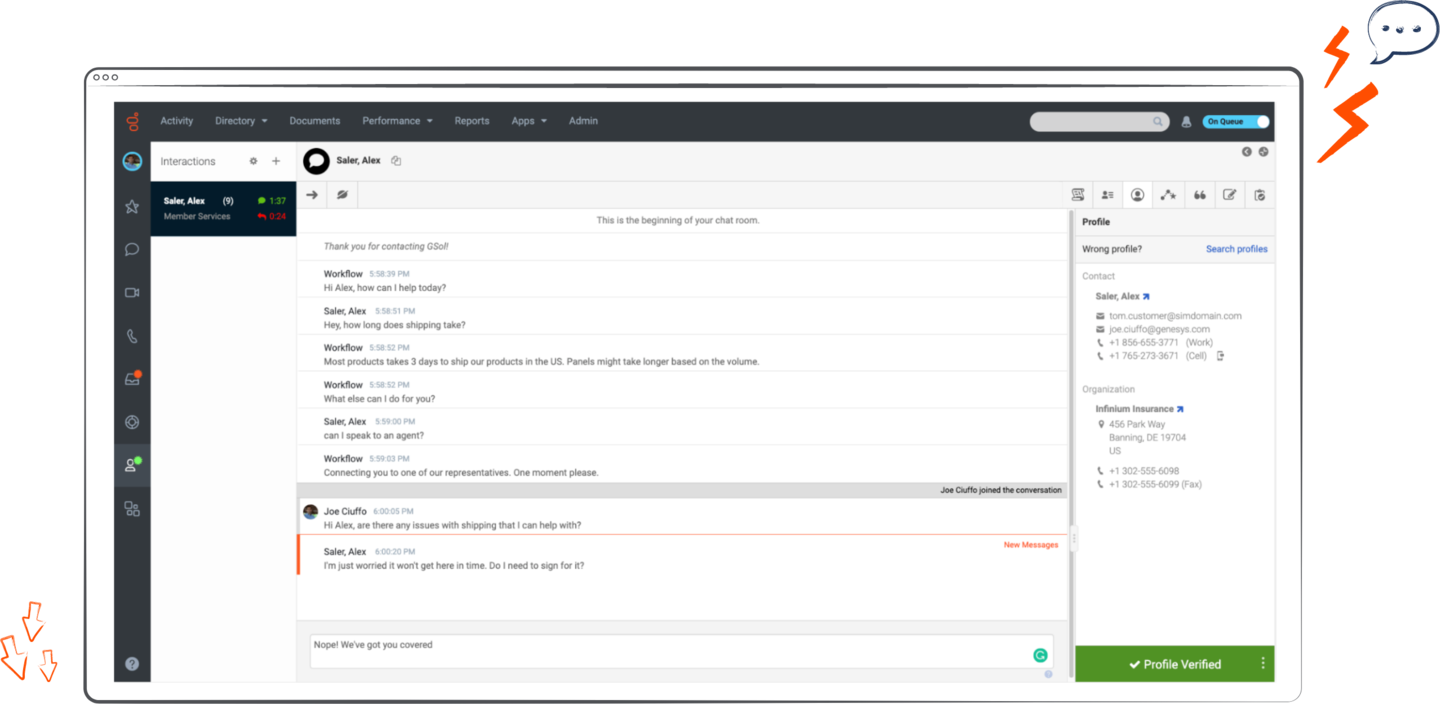 Pricing Model: per user
Best For: 11-1000+ users
Supported Languages: English, German, Dutch, Thai, Norweigan (Bokmal), Korean, Italian, Japanese, Portuguese, Swedish, Polish, Chinese (Traditional & Simplified), Turkish, French, Spanish
Features
Call scheduling
Predictive dialer
Call routing
Alerts/escalation
Campaign Management
Phone Key Input
Complaint Monitoring
Learn more about Zendesk app for Genesys Cloud
Geared towards small to mid-sized businesses, Agile CRM's auto dialer feature performs all the basic functions of an auto dialer program, as well as integration capabilities with its other customer service products.
Pricing Model: per feature
Best For: 1-1000+ users
Supported Languages: English, Spanish, Portuguese, French, Russian, Italian
Features
Blended call center
Call disposition
Call center management
Archiving & retention
Automated routing
IVR/Voice recognition
Automated Publishing
CloudTalk is an automatic dialer app used primarily by small- to medium-sized organizations for their inbound customer management calls and outbound sales calls.
CloudTalk's software offers a list of 70+ features and can be integrated into most operating CRM systems and existing helpdesk programs.
Pricing Model: per feature
Best For: 1-1000+ users
Supported Languages: English, Czech
Features
Blended call center
Call scripting
IVR/Voice recognition
Manual dialer
Predictive dialer
Alerts/escalation
Reporting/analytics
Learn more about CloudTalk's integration with Zendesk
Kixie PowerCall is a cloud-based phone sales platform specializing in intelligent autodialing, automated dialing and texting, and CRM integration capabilities.
Used mostly by sales-based organizations, Kixie Power Call provides integration capabilities with CRM systems including Zendesk, Pipedrive, Slack, and Nutshell.
Pricing Model: per feature
Best For: 2-500 users
Supported Languages: English
Features
Blended call center
Call scripting
IVR/Voice recognition
Manual dialer
Predictive dialer
Alerts/escalation
Reporting/analytics
Learn more about integrating Kixie with Zendesk
Built for SMB customers and sales professionals, PhoneBurner is an automatic phone dialer platform that includes automated content sharing features like disposition, call scripting, and emails.
PhoneBurner's SmartSender feature also allows agents to use real-time alerts that let them know when contacts open marketing materials.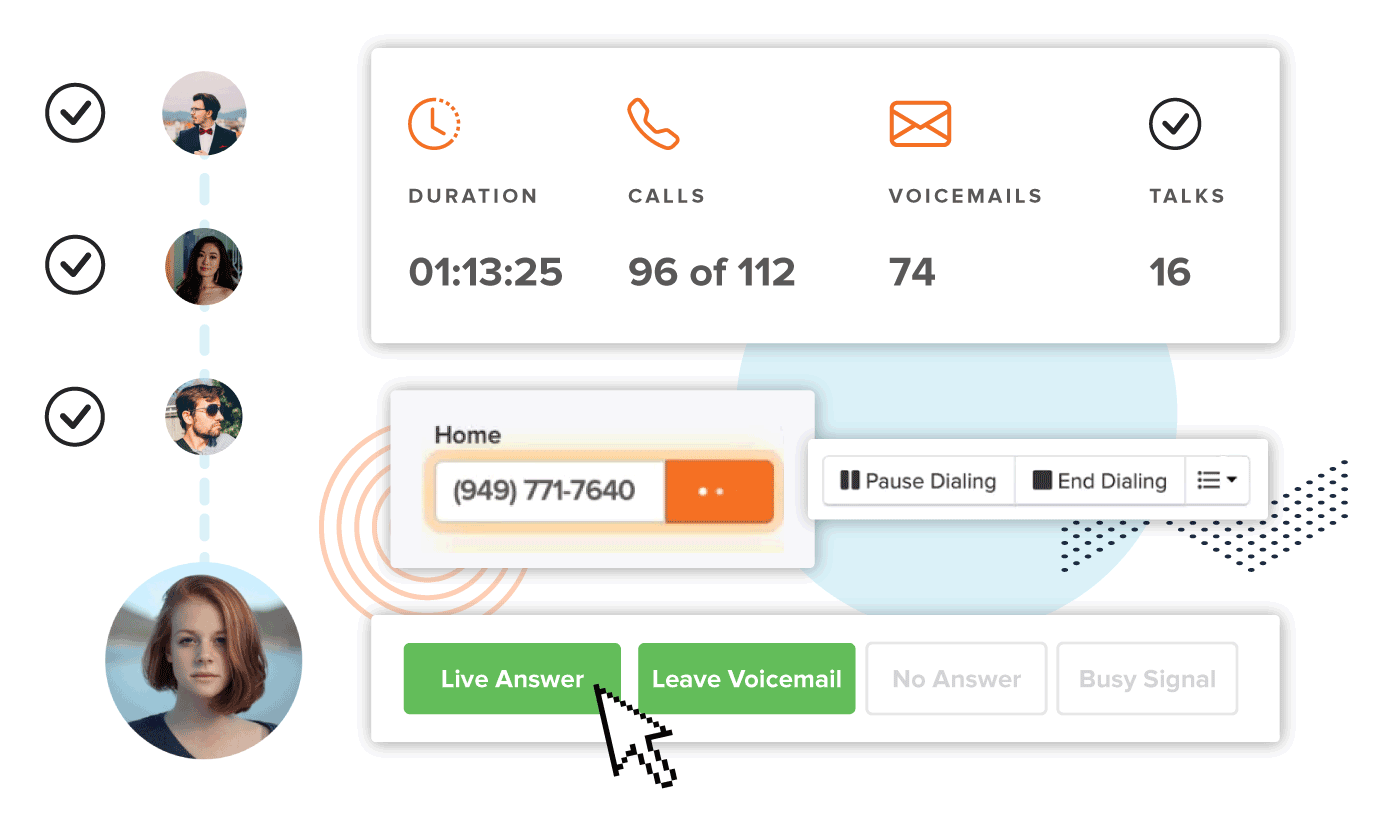 Pricing Model: per user
Best For: 1-1000+ users
Supported Languages: English
Features
Outbound call center
Call scripting
Call logging
Callback scheduling
Archiving & retention
Caller ID
Call center management
DialMyCalls is a phone dialer software solution built for organizations like schools, nonprofits, teams, universities, churches, and utility companies.
This mass notification platform allows representatives to reach contacts across a range of channels including text, email, and telephone. The platform also allows users to customize their own messaging templates and automatically conduct surveys.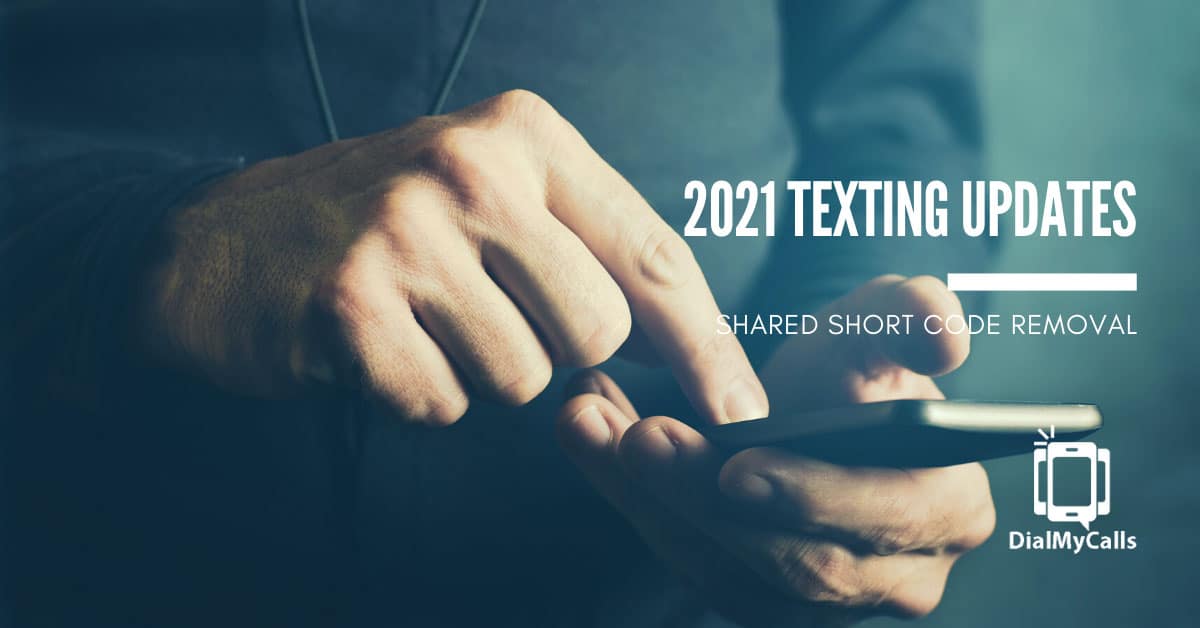 Pricing Model: per feature
Best For: 1000+ users
Supported Languages: English
Features
Mass notifications
Two-way communication
Call recording
IVR/Voice recognition
Polls/voting
Call disposition
Geotargeting
Aloware is an automatic dialer system aimed at SMB customers. This sales call management platform allows agents to contact customers via telephone, text, and social media messaging applications and provides analytics and custom report capabilities for tracking contact data.
Pricing Model: per feature
Best For: 1-500 users
Supported Languages: English
Features
Predictive dialer
Call disposition
Call recording
CRM
Power dialer
Call routing
SpitfireDialers is an online automated dialer software solution with predictive dialing. For organizations who need unlimited lines, Spitfire Enterprise Predictive (SEP) includes five different dialing modes: quick connect, preview dialing, fixed-rate dialing, predictive dialing, and manual dialing.
Pricing Model: provided upon request to vendor
Best For: 1-500 users
Supported languages: English, Spanish
Features
Call scripting
Predictive dialer
Power dialer
Call recording
Inbound call center
Caller ID
Blended call center
One Call Now is a sales call management platform that specializes in automating web-based messaging, SMS texting, and email. Industries currently using One Call Now include religious institutions, hospitality providers, and retail businesses.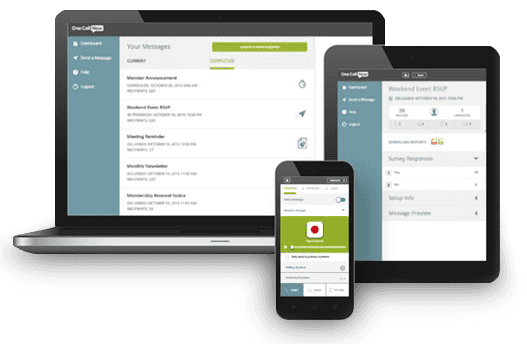 Pricing Model: provided upon request to vendor
Best For: 1-1000+ users
Supported Languages: English
Features
Power dialer
Predictive dialer
Call disposition
Alerts/escalation
IVR/Voice recognition
Mass notifications
Templates
A summary of the best auto dialer systems
Here's how our top 10 picks for auto dialer software stack up against one another at a glance:
| Auto dialer software | Free trial | Predictive dialer | Progressive dialer | 24/7 Live Rep Support | CRM | IVR/Voice Recognition | Reporting/Analytics |
| --- | --- | --- | --- | --- | --- | --- | --- |
| Zendesk | ✔ | ✔ | ✔ | ✔ | ✔ | ✔ | ✔ |
| Genesys Cloud | ✔ | ✔ | ✔ | ✔ | ✔ | ✔ | ✔ |
| Agile CRM | ✔ | ✔ | ✔ | ✔ | ✔ | ✔ | ✔ |
| CloudTalk | ✔ | ✔ | ✔ | ✔ | ✔ | ✔ | ✔ |
| Kixie PowerCall | ✔ | X | ✔ | X | ✔ | ✔ | ✔ |
| PhoneBurner | ✔ | ✔ | ✔ | X | ✔ | X | ✔ |
| DialMyCalls | ✔ | X | X | ✔ | X | ✔ | ✔ |
| Aloware | ✔ | ✔ | ✔ | ✔ | ✔ | X | X |
| Spitfire Dialers | X | ✔ | ✔ | X | ✔ | ✔ | ✔ |
| One Call Now | ✔ | ✔ | X | ✔ | X | ✔ | ✔ |
How to choose the right automated dialer software for your business?
Now that you're more familiar with the capabilities of auto dialing software, it's time to start evaluating your business's needs.
Here are a few things to consider in order to select the right auto dialer for you and your agents.
Know what everyone needs
Maybe your sales reps are burnt out because they keep leaving emails in the same inboxes. Maybe they're still manually logging customer data, wasting minutes and monopolizing their attention. Whatever the gaps in your operational efficiency, you know there must be a better way.
Do your agents only need bare-bones auto dialing software, or something with a bit more punch? Gather input from across all of your customer-facing departments about what they require, and be ready to weigh exactly what problems need solving when it comes time to choose your ideal auto dialing software.
Be honest about your company's IT capabilities
If everyone on your team is an IT wizard, congratulations.
For everyone else, be sure to take your team's technical capabilities (or lack thereof) into account when shopping for software. After all, if the goal of using auto dial software is to save time, it's counter-productive to have your team waste time grappling with a confusing user interface.
Ease of use is essential in ensuring your dialer system is doing the most for your business. Look at what software reviews are saying to make sure your dialer software isn't going to swap one pain in the neck for another.
Plan for growth
In a perfect world, your business is going to keep growing. And part of planning for that perfect world is selecting infrastructure that can scale with you.
When you're debating which auto dialing software to use, give yourself room to grow. Auto dialers do a lot of heavy lifting, but every platform has its limitations. Selecting auto dialer software that's already integrated with a powerful CRM platform gives your agents more customer care options without the hassle of learning two different interfaces.
Try it before you buy it
In 2021, there's no need to put any money down before you're certain you've found the right auto dialer software for your business. The majority of call dialer providers offer free trials so you can take their software for a spin before you commit.
Once you begin your free CRM trial, be sure to utilize as many features as you can. And before you invest in an auto dialer, always seek out feedback from your agents on its functionality and ease of use. After all — they're the ones who are going to be working with the software every day.
Auto phone dialer FAQs
Which businesses can benefit from auto dialer software?
Auto dial software is for any organization that wants to enhance the efficiency of customer contact.
Maybe you're a private school that needs to be able to reach parents with important closure information. Maybe you're a multinational retail operation with an exciting new offer for your customers who love cruises.
Whatever business you're in, phone dialer software helps your reps get the most interactions, while also gaining your organization valuable customer insight.
How exactly does an automatic dialer boost sales?
You might be thinking, "This all sounds great, but how exactly does this all translate into sales?" The truth is, there isn't any single reason.
At its most basic, an auto dial app is a sales app gives time back to your sales reps that would otherwise be monopolized by tedious tasks like logging caller data or listening to ringtones ad nauseum. And an agent spending less time listening to ringtones can spend more time, y'know... selling.
In addition, automatic phone dialers are equipped with modern analytical capabilities that take the guesswork out of sales. Your agent is far more likely to close a deal if the calls they're connected with are strategically, rather than randomly, generated. Sales strategy is a beautiful thing.
What are the typical system requirements for auto dialer software?
An internet connection and a computer is all it takes to run automated dialer software. Most desktop and laptop computers are more than capable of operating auto dial software.
For enterprise-level organizations with large call centers, you should ask your potential auto dialer provider if they can handle your volume of call activity before committing to a contract.
How much should I expect to spend on an automated dialer software?
Pricing for automated dialer software depends on a few factors. The price tag increases either per user, or per feature.
Lower-tier pricing can range from $70 to $150 a month per user, while added features can cost anywhere from $30 to $50. When you're doing more research into pricing, check to see if there's a free trial. That will give the best indication of how far your dollars will actually stretch.
Try auto dialer software for free
Let's be honest — most people don't appreciate getting discovery calls or sales calls. Even if the product or service is exactly what they need, calls from strangers can feel invasive and disruptive.
That's where Zendesk comes in.
As the only CRM system on the market evolved from a purely customer-support background, we know a little something about reaching customers. Zendesk isn't just about auto dialing — it's a complete customer relationship platform.
Giving your reps the tools to gain a more in-depth understanding of your contact base is key to building superior customer relationships. And Zendesk provides those tools in one simple, easily adoptable platform. Read more about contact management software.
If you want to try out the time- and money-saving features of automatic calling, Zendesk will let you test drive its auto dial system with no strings attached. Sign up for our 14-day free trial today, and experience how effortless customer care can be.
Want more information on sales software?
Check out more great resources to take your sales team to the next level.