Make a big deal of it
Sales CRM to enhance productivity, processes and pipeline visibility for sales teams
Sales CRM
Sell to the finish line
When you invest in the right software for your salespeople, they can focus on what matters—winning over more customers and closing deals. Sell is the sales sidekick that keeps track of your conversations, alerts you when it's time to make a call, and is backed by a dedicated team of experts to provide support when it's needed.
Sales email intelligence
Stay on top of things
Email tracking
Keep all your email communication in context. Instantly log and record all your lead and contact-related emails in Sell, whether they're sent to your inbox or in the Sell UI.
Email notifications
Receive real-time push notifications and alerts when a prospect reads or clicks on your email so you can reach out at the right time.
Activity reporting
Get access to out-of-the-box reports that examine key metrics like email count and outcomes so you can maximise your email conversations and selling techniques.
Email sequences
Create customised email sequences using personalised templates to automatically follow up with leads and identify interest.
Mobile CRM
Receive critical email insights and alerts on your tablet or smartphone. The Sell native mobile sales app makes it easy to access and measure email communication from wherever you are.
Native dialler
Make the right calls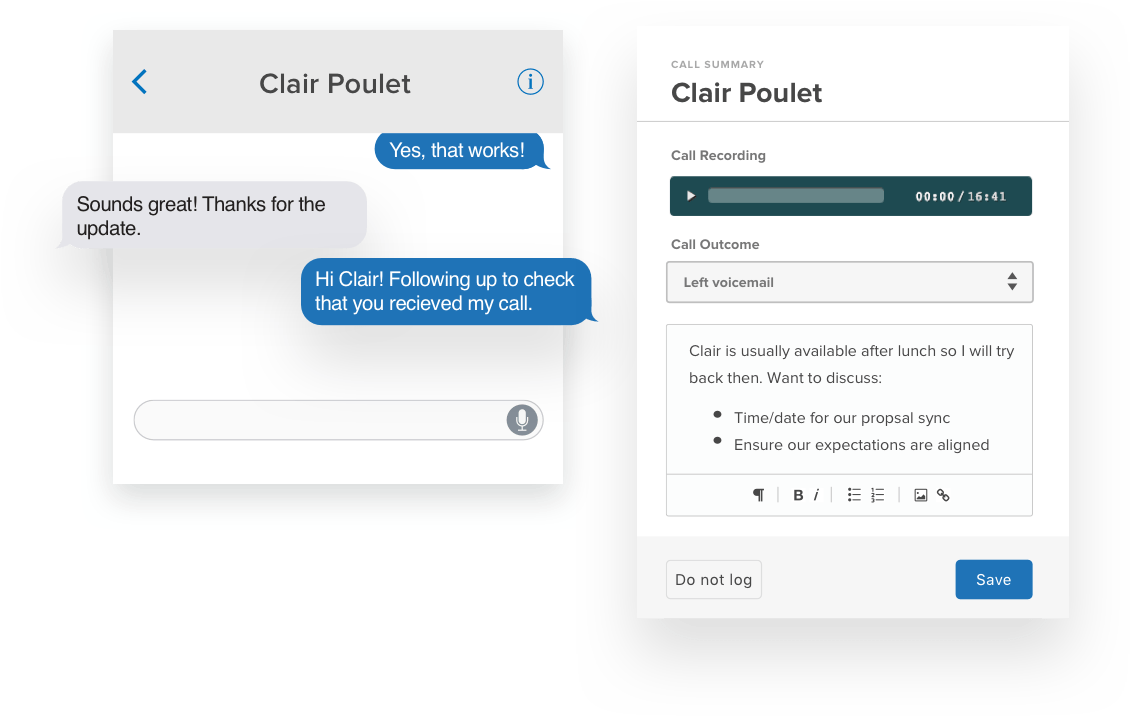 Click to call
Make calls without lifting a finger. Just click on any phone number to place a call, or easily generate call lists for rapid automated dialling.
Log and record every call
Instantly log and record any outgoing or incoming calls and reference them any time, all within the context of the appropriate lead, contact or deal.
Scripts and notes
Say the right things at the right time, with the ability to store and access notes and call scripts directly in Sell.
Send a text
If you reach a prospect's voicemail, just follow up with a text. Track and attach all your SMS messages to your lead, contact and deal cards.
Call analytics
Get out-of-the-box reports that track key metrics including call count, duration and outcomes.
Integrations and APIs
Stay connected
Hit the ground running
Connect Sell to the tools you use every day with out-of-the-box integrations built to extend across your business and create immediate results.
Apps and integrations
Build your own Zendesk app for exclusive use within your business, or install a public app from leading software providers. You can display or update external data, hide or show a field, or even build a customised solution.
Create the right connections
Whether you're working on a side project or building a major integration, Sell APIs and SDKs provide the foundation to set your integration project up for success with our sync services and pre-built code libraries.
Lead generation & engagement
Reach the right prospects
Prospecting
Build targeted lead lists using industry, company size, role and more. Get access to a database with 20 million companies and 395 million prospect records with Reach.
Enrichment
Enrich existing information and immediately build a fuller profile on a lead or a contact with Reach. Records are auto-updated, so you always have relevant, up-to-date profiles—with no manual entry.
Engagement automation
Automate follow-ups to engage leads and qualify interest before scheduling a conversation. Keep the interaction relevant with customised templates and unique touchpoint sequences for different lead sources, stages in the sales cycle, or product interest.
"We are using Zendesk Sell and Support to make it easier for the entire organisation to surface and act on relevant information. By giving our sales and support teams everything they need in one platform, they are able to effectively and efficiently collaborate and improve the customer experience."
Simon Rodriguez, Senior Vice President and Chief Digital Officer at Staples Canada
Our team of experts helps build customised solutions tailored to your unique business needs.
Ownership
We're fully invested in the ongoing success of your integration—from initial development to maintenance.
Time to go live
We will set you up with a comprehensive and effective solution as soon as possible.
High adoption
We understand sales and employ modern usability principles to design complete, intuitive solutions that encourage user adoption.
Support
If something comes up, we always have a solution. All customised integrations are built by our experts, so you always have full support.