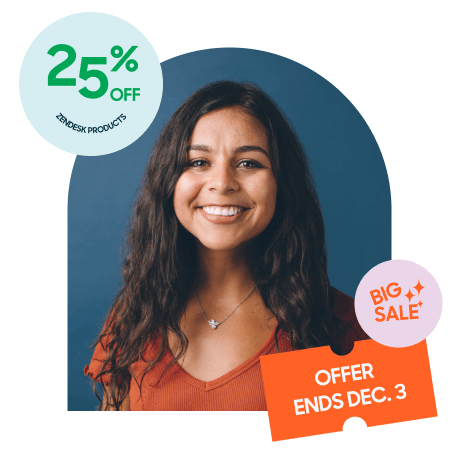 Get 25% off everything at Zendesk. That includes our crowd favorite, Zendesk Sell. (Seriously.)
days
hours
minutes
seconds
days
hours
minutes
seconds
New customers only. Terms apply.
There are two ways to take 25% off Zendesk.
If you'd like to get up and running now, start a free trial and if you like what you see, use promo code BF25OFF at checkout. If you have already had a trial with us, login in to your account and select a plan to purchase.
Or if you'd like to chat about the best plan for you or flexible billing options, contact Sales. Someone from our friendly team will be in touch.
This offer ends on 3 December 2021.
Sales tools built by sales people
Get full context on all customer interactions. It's easy to find leads and even easier to make sales.
Eliminate admin work like logging activities, finding contact details, and following up with leads.
Gain valuable insights with customised reporting to better organise and prioritise tasks.
Integrate existing platforms so your team can work from a centralised interface.
Enjoy all that Zendesk has to offer completely risk-free for 14 days. No credit card required.
Add what you want to your cart and apply
the code BF25OFF at checkout.
This deal isn't sticking around. Checkout by 3 December 2021.