"The customer self-service function of Zendesk Guide has contributed to a significant increase in customer satisfaction."
Jon Thorne
Senior User Satisfaction Manager at Skyscanner
<1%
% of Help Center Visitors who Log a Ticket
No one likes to experience travel delays. The same holds true when making travel plans. Popular global travel search engines like Skyscanner have made it easy for everyone to be their own travel agent, yet with so many moving parts—flights, hotels, and car rentals—no one likes to wait long to have their travel questions answered.
Jon Thorne, Senior User Satisfaction Manager, and the support team at Skyscanner know this all too well. When customers need help, they expect it fast. After all, rival travel websites are only one click away.
It can be a lot of pressure on a small team, considering that Skyscanner attracts more than 50 million unique visitors any given month. But Skyscanner has managed to dramatically shorten their support ticket resolution times as they've rapidly scaled.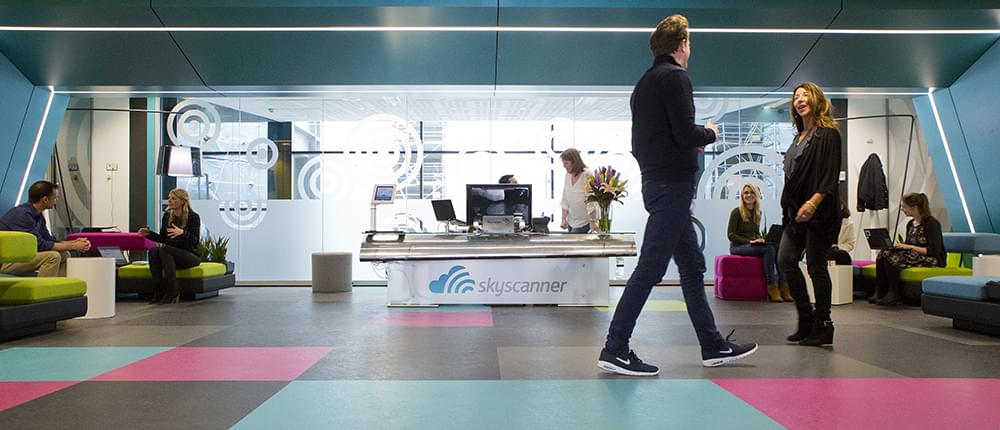 Highlights over the past 18 months include seeing their customer satisfaction score increase by 18 percentage points—which has a lot to do with decreasing their average first response time (FRT) over email by 76 percent, from 17 to 4 hours. They also revamped their self-service offering.
"We're really proud of the results we've seen," Thorne said. Although Skyscanner had a self-service web portal built on an earlier version of Zendesk Support, making the move to Guide was key to boosting their self-service ratio. Less than one percent of visitors to their new help centre end up logging a support ticket and the site maintains a low bounce rate, which is an incredible story of ticket deflection through self-service.
When Thorne joined Skyscanner in the fall of 2013, the company's support team numbered three people, one of whom was part-time. At the time, Skyscanner used a hub-and-spoke model of Zendesk and while the website is translated into more than 35 languages, customer support was not yet offered in all of these. In addition to building out his team globally, Thorne had to sort out their existing instance of Support, which was complex due to previous language restrictions. They also weren't able to measure customer satisfaction very closely. "Up until that point, it had been a blind spot," Thorne said. "We didn't really know how happy our customers were, other than just anecdotally." In recognition of Skyscanner's 'customer first' company ethos, this needed to change.
To better understand customers, Skyscanner began to measure customer satisfaction for the first time on a ticket-by-ticket basis, adding tags to every macro response they sent so that these could be analysed. As a result, the team found that they could make relatively small changes and began to experiment with revised wording in their replies. The data also revealed a strong correlation between speed of reply and customer satisfaction.
Each change brought about another change. They also realised that many people were coming to them looking for answers to recurring questions about booking confirmations or changing their bookings—all requests that the Skyscanner team couldn't assist with, as they were questions for the actual airline or travel agent the customer had booked.
To help with this, the team re-launched their help centre and began to put a greater emphasis on self-service. "We're now able to put those answers in front of customers before they have to ask us," Thorne said. "As an example, customers understand that they need to contact the airline or hotel directly instead of contacting Skyscanner to make a change to their booking—freeing up our team's time to focus on the people who most need our help."
Skyscanner's UK help centre
After launching Zendesk Guide, the ticket deflection results were immediate. "We were able to reduce our contact-per-thousand-sessions on the help site significantly," Thorne said. "That freed us up to get back to people more quickly."
Today the support team at Skyscanner typically resolves about 2,000 tickets each month, generated through their help centre. That represents less than one percent of visitors to the help centre.
"When you normalise that against our growing traffic, then the difference is even starker," Thorne added.
The team uses Google Analytics to help measure and drive article content, to ensure they're surfacing the questions that people ask most often. They've found that different questions are more common in some languages or regions than others. In the US, for instance, the phrase "connecting flights" features near the top, but is less common in Europe, so they've surfaced this specifically to US users.
The Skyscanner support team communicates with users in more than 35 languages and has taken advantage of a diverse range of third-party apps that integrate with Zendesk Support, including Unbabel, to conduct close to real-time conversations. "This has been really powerful for us," Thorne said. The team is also using another third-party integration app called Inbenta, a natural language search engine that helps customers find relevant answers to their questions as they search the help centre using natural language instead of keywords.
Another positive change came from building new triggers and automations to reconnect with customers whose tickets were unresolved. "We found people who perhaps hadn't had time to get back to us," Thorne said. "Or who needed our help, but also needed more time. Now we're sure not to lose track of those tickets."
Taken together, Skyscanner's customer satisfaction steadily climbs. "A lot of our good ratings call out our speed of response," Thorne said, "so I believe we're moving in the right direction."
Travel & Hospitality
Baleària + Zendesk: Serving passengers safely with seamless messaging
Read customer story
Travel & Hospitality
How TravelPerk offers 7-star business travel support with Zendesk
Read customer story