Cincopa Video & Media hosting for business
Cincopa for Zendesk allows you to easily add videos and other forms of media like podcasts, audio, images and files from your Cincopa account right into Zendesk tickets.
Provide better customer support, increase customer satisfaction, close tickets quicker and improve your team's productivity with the power of video.
With Cincopa for Zendesk, you can:
Upload Videos directly to your Cincop account and arrange them into folders (tags)

Navigate your Cincopa library and find the right video to share in your ticket.

Add a video, audio, image gallery or file thumbnail link to a Zendesk ticket.

Track the viewer's email address in your Cincopa analytics, and learn how each person interacts with your content.

Tag Zendesk tickets automatically when a video, audio, image or file is shared, to see how video and other types of media impacts your team's productivity and your customers' happiness.

Record personal videos or how-to videos with RecTrace – our Screen and cam recorder to create better, more human relationships with your customers and instantly share that video in a Zendesk ticket.

---
For a product demo or if you'd like to speak with our sales team, get in touch.


Add videos and media to your Zendesk tickets. Here's how to set up your Cincopa for Zendesk integration.
Getting Started
1 First, Create a free Cincopa account. Or, if you already have one. The link will redirect you to where you need to go.
2 Now copy your Cincopa Api key and return to Zendesk plugin installation page.
3 Paste your Cincopa API key to the "Api Token" field (CTRL + V), save the settings and you're ready to go 😊.
4 If you want to get your own branded share page (the page where your video is played when your users click the video), simply contact our team.
That's it! After following those steps, you can access the Cincopa for Zendesk app from its button in the Zendesk ticket editor toolbar: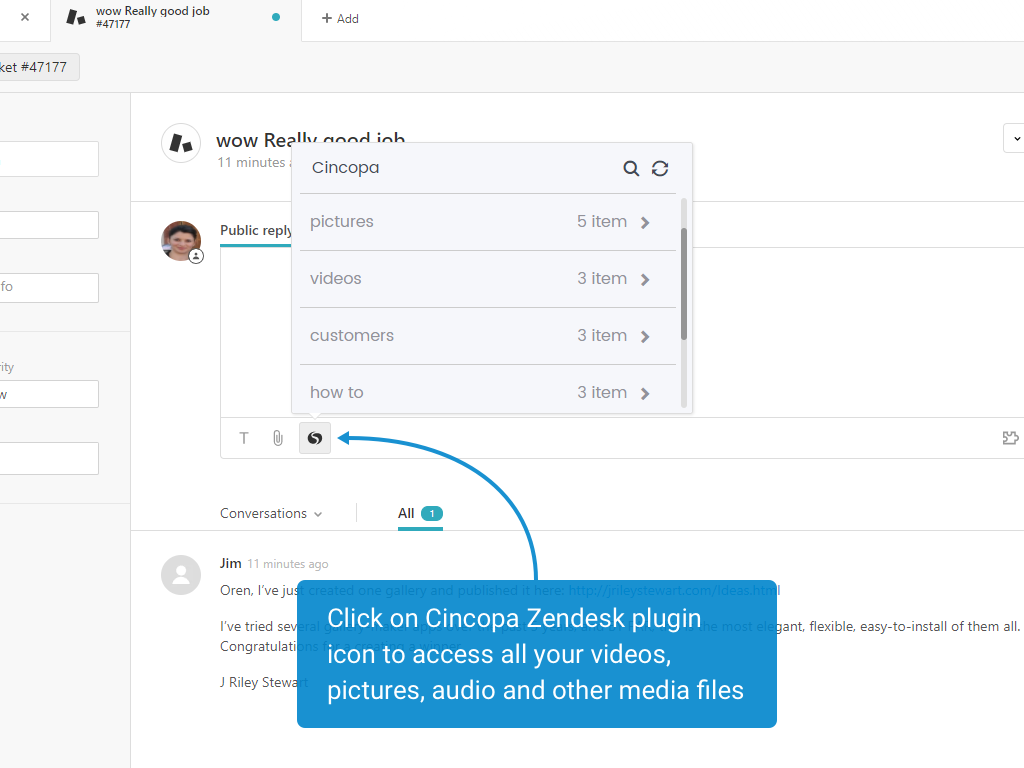 To learn more about using Cincopa in Zendesk, see the Cincopa for Zendesk help page.
Got any Questions? Problems? Feedback? support@cincopa.com is here for you.
Get your app in The Marketplace
Find out what it takes to get your app on the digital shelves.