Approval workflow processes for tickets
Join the many organizations using Approvals to automate thousands of approval requests each week combined.
Get approval workflows done quickly and correctly with the ticket's audit log as the permanent record. With the Approvals app, send selected information from ticket fields directly to approvers with an agent's single click. Or even better, use triggers to send off the approvals automatically!
Approvers don't need to be users in Zendesk. Yes, you read right! Approvers can be anyone you like and you're able to create an unlimited amount of them. No need to pay for unnecessary Zendesk agents.
Example of an agent sending an approval request: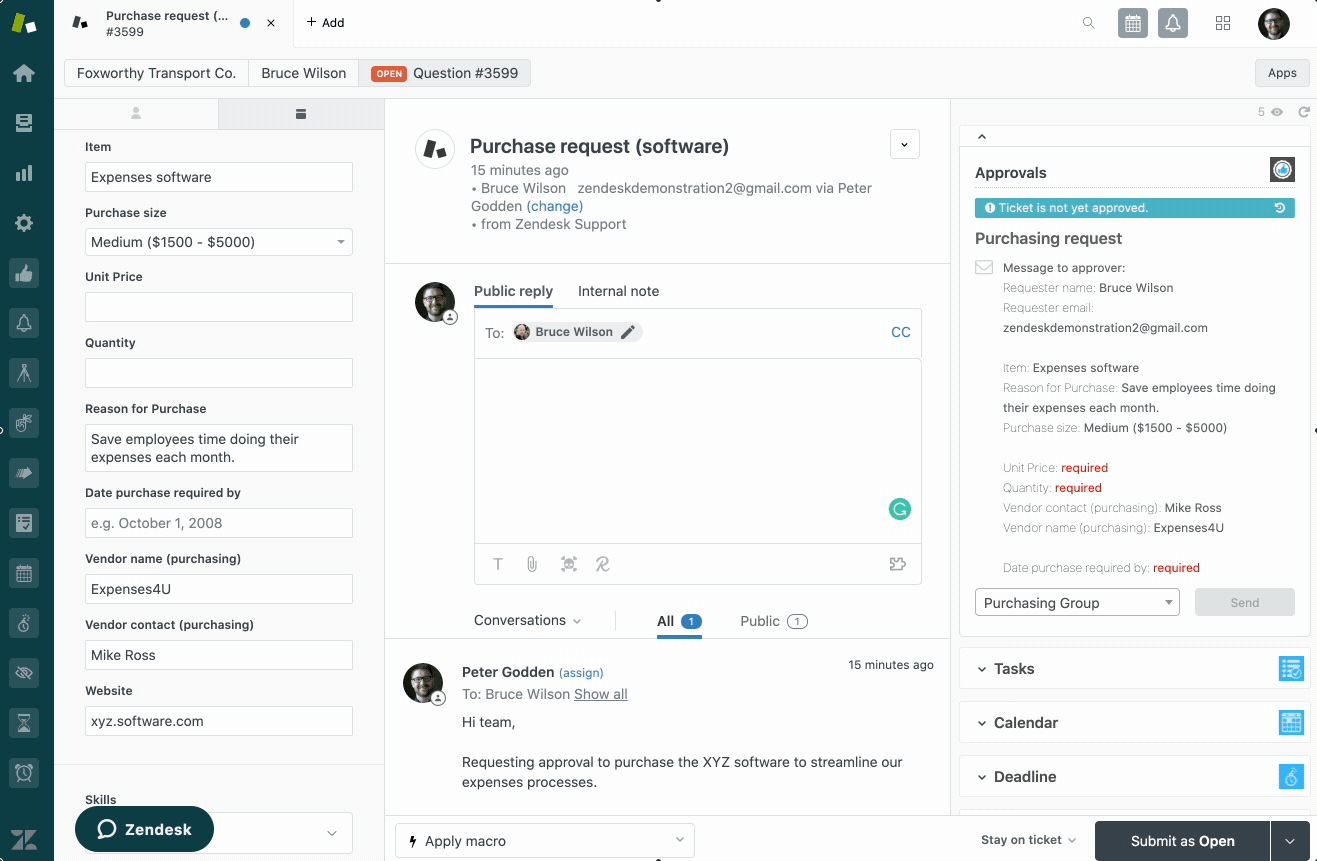 Ticket fields that are part of an approval request are required to be filled out before it can be sent.
When an approval request is sent, the ticket fields that are part of it are locked down on the ticket to ensure the person approving is assessing relevant information.
At any point during an approval, agents and approvers can view a history of all events.
Approvers only need access to their email to grant approvals. Logging into Zendesk is not required.
At the point an approval is assessed, approvers can "Approve" or "Decline" and provide a comment for their decision. If required, approvers can also escalate the decision up the chain of command.
Example of an approver granting an approval request: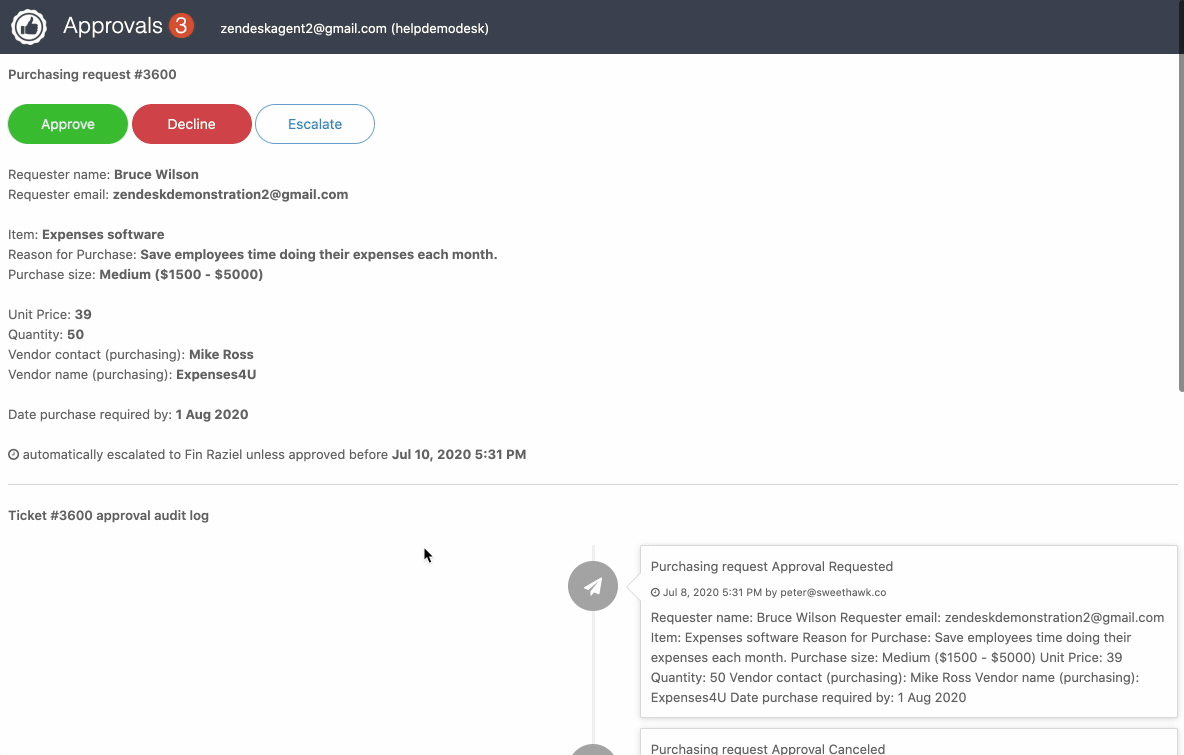 Once an approval is granted, this will be updated on the ticket with a private or public comment and also within the app.
At each stage of an approval request, the app automatically tags the ticket. This allows you to build workflows based on those tags using Zendesk triggers.
Multiple approval requests can be sent to different people, departments or managers on each ticket.
When sending multiple approval requests, they can be sent off one at a time (serial approvals), at the same time (parallel approvals) or a combination of both serial and parallel requests.
Approvals can also be sent to groups of approvers where you can nominate a minimum number within the group that is required to approve before the approval is considered "Granted".
Features
End-users can initiate approval requests depending on how you setup your approval templates.
Agents can send, cancel or restart approvals, but are restricted to ensure approvals are actioned based on their predefined conditions before tickets can be marked as solved.
Ability to define unlimited approvers who don't need to be users in Zendesk. All they need is access to their email.
Restrict approvals so that agents can only send them out to a specific list of approvers, or open them up so they can be sent to anyone.
Ability to escalate approvals up the chain of command.
Create groups of approvers and set how many within a group need to approve before the approval is granted.
Multiple approval requests can be sent off in series, parallel or a combination of both.
Ability to map managers to approvals based on who the requester is.
Use placeholders (liquid markup) and HTML to define the message sent to approvers.
Ticket field locking functionality for ticket fields referenced by an approval.
Public or private comments added to the conversation of the ticket when an approval decision is made.
Show, hide and require approvals based on ticket conditions.
Automatically send approvals based on ticket conditions.
Full historical views for both approvers and agents.
Branding available to add your logo and change the sender domain of approver emails.
Approval portal & email available in 6 languages.
Map who the current approver is to a ticket field visible to end-users on the Help Centre.
Build workflows based on the state of any approval using Zendesk triggers.
Built by SweetHawk. 14 day free trial included. Free for sandbox accounts.