Microsoft Dynamics CRM 2011
Deliver a holistic view of your customers for your sales and support teams with a dynamic two-way integration between ticket data from Zendesk and customer data from Microsoft Dynamics CRM 2011.
Highlights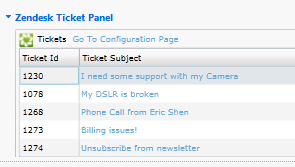 Connect sales and ticket data
Easily access and filter support ticket information in a custom Zendesk panel within Microsoft Dynamics CRM 2011. Enable your sales team to view, create and update tickets within a familiar sales platform they use everyday.
Share customer data for better support
Give your support team better insights to deliver superior customer service. Share relevant customer data, such as customer account size or contract status, from Microsoft Dynamics CRM 2011 on Zendesk ticket pages and user profiles.
Gather business intelligence through synced data
Apply Microsoft Dynamics CRM 2011 reporting and analytics tools to Zendesk ticket data. Gain insights to increase workflow efficiencies that help you raise customer satisfaction.
What our customers are saying
Scorpio loves it
"The Zendesk for Microsoft CRM integration funnels critical sales and support information into a single view–allowing us to respond to our customers faster and smarter and improve our levels of customer service." – Iain Dalgarno, Sales and Marketing Manager