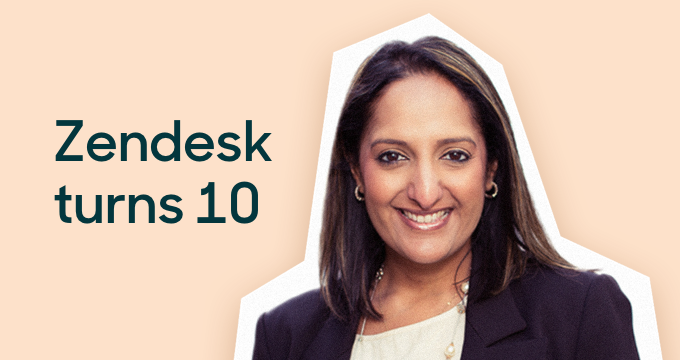 Zendesk lesson #5: Selling enterprise business software doesn't have to be boring.
I've been a part of Zendesk for 3.5 years (1288 days to be exact, as of this writing). In that time, I've seen this company say goodbye to our beloved Buddhi and lotus flower logo and grow from supporting one product to multiple products, all represented by our beautiful new "relationshapes". We've transformed from a company that didn't have a stock ticker to one that does (ZEN).
Ever since my first interaction with Zendesk, I knew this place was special. It wasn't just another boring software company. From the This is Zendesk video to an interview question around karaoke preferences, everyone I met and continue to meet is here because they are passionate about executing on the Zendesk vision—making software for better customer relationships.
Zendesk has grown from 3 friends who wanted to make customer support simple to 2,000 employees around the globe all carrying out that same vision. One thing that's remained consistent through the years is that we still have fun, even through periods of transition and growth, or as we rebranded our company and products. Our rebranding came with a series of fun videos so employees and customers, current or future, are able to understand how and why we rebranded, and what the shapes stand for. I've worked at other organizations where there was a rebrand and I still couldn't tell you anything about that rebranding. But here at Zendesk, the reasons for the rebrand were crystal clear to me and still capture that same fun Zendesk spirit, just with a different look and feel.
User conferences are another thing I've seen Zendesk reenvision. User conferences are usually packed with an overwhelming amount of technical information and can be intimidating to walk into (much like being the new kid in school). By the end, you find yourself mentally and physically exhausted. But after returning from Relate Live, Zendesk's conference that is equal parts thought leadership and user conference, I felt invigorated. The sessions offered a range of topics—some focused on Zendesk products, others on customer support at large, and even a few that provided life lessons, whether that was how to overcome bias or to pivot in your personal career. Everyone was able to walk away with something to enhance their skillset, not just their use of Zendesk.
Most of all, as I've worked with our customers, I've learned that all of us—customers, employees, and the executive team—play equal roles in making it fun. That's because we stay true to who we are and to our core values. We try to keep it simple because we know relationships are complicated, but also that software doesn't have to be.
It's our 10-year anniversary and we've got some wisdom to share. Click here to read more of the big lessons we've learned over the years.