My Read Receipts Lite is 'lite' version of our read receipt app and is always free. We provide all new customers access to the premium features for the first 30 days!
My Read Receipts is the most popular Read Receipt app in the world. Over 1,000 companies & 100,000 agents use My Read Receipts every day to:
* Cut ticket resolution times by up to 50%!!
* Increase NPS scores by up to 43%
* Increase sales by up to 33%
* Eliminate up to 60% of fraudulent sales and unauthorized access to accounts.
My Read Receipts creates a private comment update or Read Receipt when your customer opens their email:
Always know your customer received your email!
* Increase agent productivity by tagging unread tickets to create views & custom business rules.
* Generate read receipts in ticket or in a custom ticket field and ticket event log.
* Customize author of the read receipt.
* Automatically blacklist agent IPs to prevent false positives.
* Whitelist IP addresses when working on-site with customers.
Ticket Portal
Additional subscription required
Public Ticket Portal allows your customer to view, solve and update tickets without having to login.
Don't worry we designed it to be extremely secure at the same time. Based on private customer test this has reduced ticket resolution times by up to 50%!
Customizable HTML Email Headers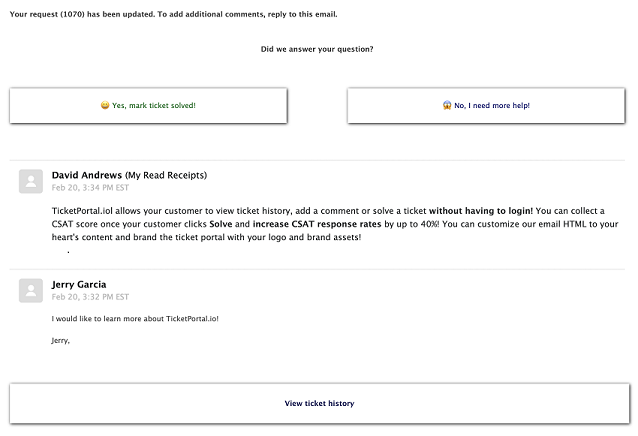 Instant CSAT Response
Once the user clicks on solve, you have the option to present a CSAT survey that we can import directly into your Zendesk instance. This will increase CSAT response rates since it requires only one additional click.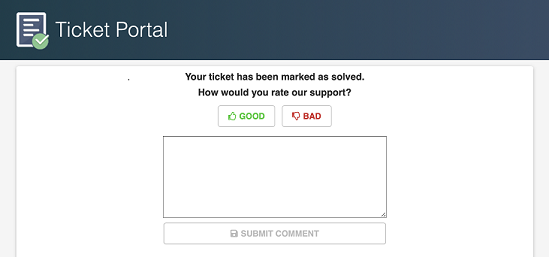 Email Verification/Validation
Simply add 'mrr-validate' to your Zendesk triggers & automations when a new ticket is created. If the email is unable to be verified we will provide the results in a private comment update.
We do not store end-user IP addresses. If you would like us to store and provide IP addresses upon request please execute sign our Data Processing Agreement.
Get your app in The Marketplace
Find out what it takes to get your app on the digital shelves.